Explosions in Russian Belgorod, fire broke out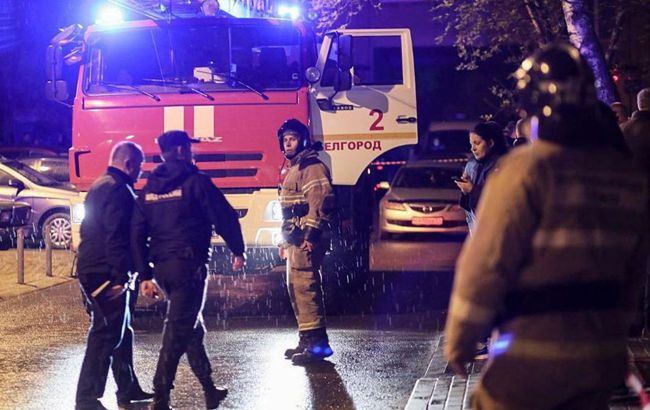 Explosions occurred in Belgorod, and a fire broke out (ohoto: Russian media)
Residents of Belgorod, Russia, reported hearing explosions and witnessed a fire. Two people lost their lives in the incident, and there is a possibility that a child may be trapped under the debris, according to the governor of the Belgorod region, Vyacheslav Gladkov.
Gladkov reported the deaths of two people after the drone's crash.
"Two people died during the drone crash near Belgorod, and there may be a child left under the rubble," the governor said.
According to the Russian Ministry of Defense, the drone was Ukrainian. The Ukrainian Armed Forces have not commented on the incident.
"Around 23:50 Moscow time on October 11, air defense means destroyed a Ukrainian drone of an aircraft type over the Belgorod region," the ministry stated.
The governor of the Belgorod region reported that the drone was shot down, but the debris fell onto a residential building, causing a fire.
"The air defense system shot down an unmanned aerial vehicle (UAV) of an aircraft type on its approach to the city. As a result of the debris falling, a private residential building caught fire," the message read.
Subsequently, a video of the aftermath of the attack emerged.
Belgorod is located approximately 30 kilometers away from the border of Ukraine.
Photo: Location of Belgorod (deepstatemap.live)
Shelling in the Russian Federation
Residents of Belgorod complained about drone attacks a week ago. The residents heard explosions, and videos of the attacks appeared online.
Prior to this, in the Bryansk region, locals heard explosions, and part of a settlement was left without electricity. There were at least four explosions.
A day before the attack on the Bryansk region, a drone was spotted in the sky, and it was allegedly "shot down by air defense systems." Ukraine was traditionally blamed for everything.