(Not)Near East: How Arab countries and Israel are assisting Ukraine in the war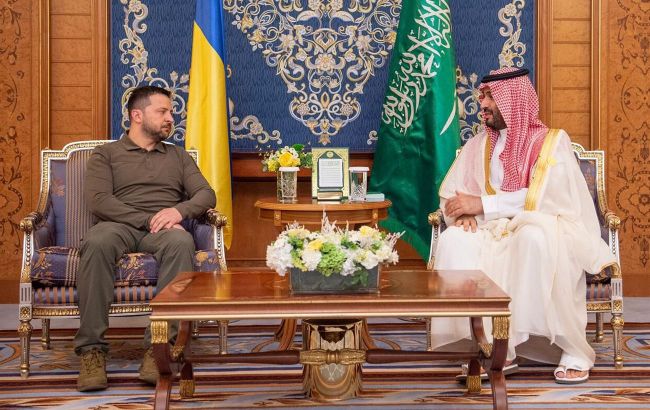 Volodymyr Zelenskyy and Mohammed bin Salman (Photo: Getty Images)
What are Ukraine's relations with the countries of the Near East, what positions do the key states of the region, particularly Saudi Arabia and Israel, hold regarding the war, and who and how are ready to assist Ukraine – all these issues are covered in the summary by RBC-Ukraine from the series of articles about the Global South.
Since the beginning of Russia's full-scale invasion of Ukraine, countries in the Near East have mostly maintained neutrality, with the exception of Moscow's allies represented by Iran and Syria. The countries of the Arabian Peninsula are avoiding publicly condemning Russia as an aggressor. In particular, Saudi Arabia and the United Arab Emirates supported Ukrainian resolutions at the UN and provide humanitarian assistance to Ukraine.
However, recently, large Arab countries have become more active regarding the war issue. Saudi Arabia hosted an international meeting on the Ukrainian peace formula, and the UAE brought up ideas about bringing the leaders of Ukraine and Russia to the negotiation table. The Near East seems to want to show that it can also be a player on the geopolitical chessboard.
Active neutrality
In early August, Saudi Arabia hosted a meeting on the Ukrainian peace formula at the level of state leaders' advisers and representatives of diplomatic missions. This initiative from Saudi Arabia was unexpected for Ukrainians because this country had maintained neutrality since the beginning of Russia's invasion and had not publicly condemned the aggressor, although it had voted in favor of Ukrainian resolutions.
However, organizing a meeting on the peace formula is evidence of Saudi Arabia's consistent foreign policy. As explained by the Ukrainian Ambassador to Saudi Arabia, Anatolii Petrenko, Saudi Arabia firmly upholds the principles of international law and the UN Charter, which interpret state sovereignty and territorial integrity as inviolable. And the Ukrainian peace formula is based on these principles.
The leadership of Saudi Arabia began to show itself even before the meeting in Jeddah. In February of this year, the Minister of Foreign Affairs of the Kingdom, Faisal bin Farhan Al Saud, visited Kyiv, becoming the first official from the Persian Gulf countries to visit Ukraine. And in May, Ukrainian President Volodymyr Zelenskyy took part in the Arab League summit held in Jeddah.
Zelenskyy was invited as an honorary guest to the summit by Saudi Arabia. During that visit, he met with Crown Prince Mohammed bin Salman and called on the Arab League to "honestly look" at the war and join the Ukrainian peace formula.
It is said that Crown Prince Mohammed played a significant role in organizing the peace formula meeting in Jeddah, persuading Near Eastern countries and even China, which had refused to participate in a previous meeting in Copenhagen, to join. According to the Ambassador, Jeddah demonstrated Saudi Arabia's readiness to advance Zelenskyy's peace formula.
Volodymyr Zelenskyy and Crown Prince Mohammed bin Salman (Photo: Getty Images)
Ukraine is counting not only on Saudi Arabia's mediating role but also on its practical involvement in implementing the peace formula. As the Ambassador explained, Kyiv proposed to Riyadh to take responsibility for certain directions, including the release of prisoners. And Saudi Arabia has already achieved successful cases in this aspect.
Last September, Riyadh participated in a large-scale exchange between Ukraine and Russia. Then, in exchange for a turncoat deputy Viktor Medvedchuk from Russian captivity, defenders of "Azovstal" were liberated, along with commanders and ten foreigners who were facing the death penalty in the so-called "Donetsk People's Republic." As reported by the media at the time, the involvement of the Crown Prince played a role in freeing foreigners.
Another issue where Saudi Arabia could play a significant role is the final element of the peace formula – fixing the end of the war. This involves creating guarantees that would ensure lasting peace in Ukraine and prevent any escalation from Russia.
"We believe that Saudi Arabia can be a very powerful and effective partner in these two points. First, we are already working on it, and we have successful exchanges. Second, the response from Jeddah. They are ready to move forward with us on this process, to start implementing the peace formula, and to move from plans to actions. Here, Riyadh will play a constructive and serious role," the Ambassador noted.
In July of last year, U.S. President Joe Biden visited Saudi Arabia, which was partly related to the full-scale war in Ukraine. At that time, the media and experts drew historical parallels with how Saudi Arabia contributed to the collapse of the USSR by crashing oil prices. Many hoped for a similar scenario, but this time involving Russia. However, the visit of the American President did not yield such a result.
As of today, according to Petrenko's statements, Saudi Arabia finds it unprofitable to crash the market since the projected relatively high price of oil is a matter of its national interest. Currently, oil revenues enable Saudi Arabia to carry out its own economic transformations. Meanwhile, as explained by the Ambassador, Ukraine is counting on Saudi Arabia's assistance in maintaining price limits on Russian oil set by the G7.
"Can Saudi Arabia help us restrain Russia? The answer is yes. By taking a principled stance on limiting the price and volumes of Russian hydrocarbons exported by Russia. Because by restricting the flow of money to Russia, they are limiting aggression against Ukraine," he explained.
Currently, Saudi Arabia is moving in the direction of "positive neutrality" toward Ukraine. On one hand, the Kingdom supports international law and provides humanitarian aid to Ukraine, but on the other hand, it has not joined sanctions against Russia and maintains economic relations with it.
Saudi Arabia does not provide Ukraine with weapons and military equipment but is open to humanitarian assistance. During the visit of Faisal bin Farhan Al Saud, a contract worth 400 million dollars was signed, under which blankets, hygiene supplies, and 135 powerful generators arrived in Ukraine in March.
Minister of Foreign Affairs of Saudi Arabia Faisal bin Farhan Al Saud in Ukraine
Ukraine is also interested in Saudi Arabia joining post-war recovery efforts in Ukraine. According to the Ambassador, there are several key areas. First and foremost, the agro-industrial complex and energy represent a common interest. Saudi Arabia is currently working diligently on ensuring food security in the region, and Ukraine can assist with that. At the same time, Ukraine is striving for energy independence, and in this matter, Saudi Arabia can help.
The full-scale Russian invasion of Ukraine has initiated changes in the current world order. Countries are competing for leadership not only in their regions but also on the geopolitical stage. And as Ihor Semyvolos, Director at the Association of Middle East Studies, noted, participating in a top global issue can attract attention and strengthen subjectivity. And the war in Ukraine is such a global issue.
The race for the top spot is underway in the Near East, as Crown Prince of Saudi Arabia Mohammed bin Salman has ambitions to bring his country, which influences decisions not only in the region but also in the world, into the "heavyweight" league. And currently, Riyadh is getting ahead.
Number two
Recently, there has been an activation on the "diplomatic front" by the United Arab Emirates (UAE), which is one of the leaders in the region. Last week, the Lebanese newspaper L'Orient-Le Jour reported alleged plans by the UAE to bring Zelenskyy and Putin to the negotiation table during the United Nations Climate Change Conference (COP28) scheduled for the end of November in Dubai.
Of course, the idea of negotiations with Putin was immediately rejected in Ukraine. The Minister of Foreign Affairs, Dmytro Kuleba, assured in an interview with Corriere della Sera that Putin and Zelenskyy will never sit at the negotiation table.
This information in the Lebanese newspaper could be an attempt by the UAE to show that not only Saudi Arabia can be a diplomatic mediator, but also that the Emirates can play their role in Russia's war against Ukraine.
The UAE also supported resolutions regarding Russia's war against Ukraine at the United Nations General Assembly, while publicly maintaining neutrality. Although the Emirates is a key partner of the United States in the region, they are gradually trying to reduce their dependence on a single global player, striving for multipolarity, thus developing relations with China and maintaining ties with Russia.
UAE Vice Premier Mansur bin Zayed Al Nahyan meeting with Volodymyr Zelenskyy (Photo: Getty Images)
This explains the Emirates' position regarding the war in Ukraine. The UAE continues its cooperation with Moscow and does not join Western sanctions against Russia. Dubai has become a parking spot for the capital of Russian businessmen seeking refuge from sanctions. At the same time, both the Emirates and Saudi Arabia are providing humanitarian assistance to Ukraine and aiming for economic cooperation.
Last December, Ukraine, and the UAE announced their intention to conclude a comprehensive economic partnership agreement (CEPA). Ukraine became the first European country with which the Emirates decided to establish such an agreement. "This speaks to the fact that the UAE sees Ukraine as a long-term partner. They believe in us and believe in long-term economic partnership. We started in December and, in principle, are making good progress," said Ukraine's Ambassador to the UAE, Dmytro Senik.
He is also confident that the Emirates will participate in Ukraine's post-war recovery, as they are already assisting with certain projects. In particular, the UAE allocated $4 million to a project by Olena Zelenska to build shelter-equipped buildings for large foster families.
Olena Zelenska and UAE President Muhammad bin Zayed Al Nahyan (Photo: president.gov.ua)
A few years ago, the UAE established ten principles for its future development, including international humanitarian aid regardless of religion, race, or culture for those in need. "In this principle, they see aid to Ukraine. The UAE has sympathy for us, I believe it's genuine sympathy," Ambassador Senik added.
The Emirates is also interested in the Ukrainian peace formula. They attended a meeting in Jeddah. Like Saudi Arabia, the UAE could contribute to the implementation of humanitarian aspects of the peace formula, such as food security and environmental protection. The implementation of the peace formula was discussed, including during the visit to Ukraine by the UAE Minister of Climate Change and Environment, Mariam Almheiri.
Other countries in the Persian Gulf are not as active as the Emirates or Saudi Arabia and are trying to maintain even greater neutrality on the matter of Ukraine. Notable activity from these countries includes the May visit of Bahrain's Foreign Minister to Ukraine, the first since diplomatic relations were established, and the visit of Qatar's Prime Minister to Kyiv.
Complex relations
One of the key players in the Near East is Israel. However, after February 24, 2022, the government of this country surprised Ukrainians in an unpleasant way. While the position of Arab countries was and remains understandable, as they are mainly authoritarian monarchies, expectations from Israel, which positions itself as a democratic Western country, were different.
In Israel, after the start of Russia's invasion of Ukraine, three prime ministers changed. However, none of their governments could take a principled pro-Ukrainian stance, notably refusing to provide military assistance. Throughout a year and a half of full-scale war, none of the Israeli prime ministers visited Kyiv, while one of them (Naftali Bennett) made a secretive visit to Putin in Moscow in March of the previous year.
Yair Lapid was quite active in foreign policy during his time as prime minister, according to the Ukrainian Ambassador to Israel, Yevhen Korniichuk. He condemned Russia several times, and under his leadership, Israel voted for UN resolutions. However, the stance on providing weapons to Ukraine remained consistent.
In December of last year, Benjamin Netanyahu returned to power in Israel, whom Ukraine considered a mediator for the peaceful resolution of the conflict with Russia even before the full-scale invasion began. After returning to power, Netanyahu promised to reconsider providing military aid to Ukraine, but for now, Israel's government position remains unchanged.
Israel's position remained unchanged after Netanyahu's return to office (Photo: Vitalii Nosach, RBC-Ukraine)
Israel's caution regarding military assistance to Ukraine is linked, in particular, to the presence of Russian forces in neighboring Syria. Israel has been conducting a proxy war with Iran for many years, regularly striking targets in Syrian territory where Russian air defense systems and aviation are deployed. Therefore, relations with Moscow play a significant role for Israel, and decisions regarding assistance to Ukraine are made solely with its own security in mind.
"Firstly, we share a close military border with Russia. Our pilots fly alongside Russian pilots in the skies of Syria. Secondly, we are also concerned that any systems we provide to Ukraine could be used against us, as they might end up in the hands of Iran and be used against us," explained Netanyahu the reason for refusing military aid to Ukraine.
At the same time, Israel assists Ukraine in humanitarian matters. Not only on the government level but also through businesses and civil organizations. This week, several tons of medication worth 100 million hryvnias were delivered to Ukraine for Ukrainian military personnel. Since the beginning of the Russian invasion, the Ukrainian-Israeli association NEXUS has provided over 130 tons of humanitarian aid to Ukraine. Israel is also involved in the rehabilitation of Ukrainian soldiers.
The Israeli government also aided Ukraine in upgrading its missile attack warning system. Testing of the system, which is intended to help the Ukrainian military better counter aerial threats, is set to begin this autumn. However, Ukraine, of course, would prefer Israel's air defense systems, the effectiveness of which is acknowledged worldwide.
This week, Ukraine and Israel found themselves on the verge of a diplomatic scandal. The cancellation of medical insurance for nearly 14,000 Ukrainian refugees in Israel and rumors that the Israeli side might be leaking details of Ramstein meetings to the Russians became the stumbling blocks. There were even rumors about Israel's possible exclusion from Ramstein. In Israel, it's believed that such accusations without evidence could have consequences for the relationship between the countries.
"First of all, it wasn't Ukraine that welcomed Israel into Ramstein. Second, we would like to see concrete evidence for such serious accusations. We are waiting for explanations; this story cannot just hang in the air. It could have very serious consequences – complicating our relationship," a source in Israeli diplomatic circles told RBC-Ukraine.
However, even the Ukrainian government considered suspending visa-free travel with Israel. According to the official version, previously voiced by Ambassador Korniichuk in the media, these considerations are related to the approaching annual pilgrimage of Hasidic Jews to Ukraine and difficulties for Ukrainians entering Israel. Ukrainian refugees had problems entering Israel from the first days of the Russian invasion. At that time, the Israeli government introduced electronic visas, without which citizens with Ukrainian passports were not allowed on planes.
"We had to turn to the Supreme Court of Israel to cancel this decision. However, unfortunately, immigration-related issues continue. This year, the number of rejections for our citizens has even increased compared to the past. Now we're talking about every tenth person," Korniichuk told RBC-Ukraine.
A source in Israeli diplomatic circles assures that such problems arise not only for citizens of Ukraine but also for citizens of other countries who traditionally come to Israel for illegal employment. And this issue arose long before the full-scale Russian invasion of Ukraine.
Moreover, according to Israeli estimates, the entry refusal rate is not ten but five percent. In certain cases, the Ukrainian Ministry of Foreign Affairs becomes involved in resolving the issue, maintaining close contact with the Israeli Ministry of Internal Affairs.
However, it seems that the issue of health insurance has been quickly resolved. Recently, there was a conversation between the ministers of foreign affairs of Ukraine and Israel, after which it was announced that medical insurance for Ukrainians would remain. As for the situation concerning the entry of refugees into Israel, consultations are ongoing with the Israeli government, as mentioned by Korniichuk.
Ukraine and Israel are on the verge of a diplomatic scandal (photo: Vitalii Nosach, RBC-Ukraine)
According to an informed source speaking to RBC-Ukraine, the story of canceling the visa-free regime is unlikely to become a serious tool of pressure on Israel from Ukraine. Besides the annual pilgrimage of Hasidic Jews (whom the Israeli authorities themselves warn against traveling to Ukraine), there is no significant tourist flow from Israel to Ukraine. On the other hand, the potential introduction of reciprocal measures - canceling the visa-free regime for Ukrainians - could seriously impact Ukrainian tourists.
Understanding Ukrainian-Israeli relations and attempting to address the problematic issues could be facilitated by a meeting between Zelenskyy and Netanyahu. However, despite numerous invitations to Ukraine, the Israeli Prime Minister has not found time for this yet. Ukrainian President Zelenskyy criticized Netanyahu for this.
"I invited Mr. Netanyahu (to Kyiv). I invited two other prime ministers who were before Mr. Netanyahu. While the prime ministers are different, the result is the same," Zelenskyy said at a press conference in Vilnius in July.
At the same time, it's important to differentiate between the position of the Israeli government and the Israeli people, noted Ambassador Korniichuk. Despite the government's position, citizens significantly and actively support Ukraine.
"Both I personally and my friends try to explain to Israel how they can help Ukraine. I explain why, how, and for what purpose, that it's our moral duty as Jews, why Israel should do it. For those who don't understand, I say: look, Russia's closest partners now are Iran, Syria, and North Korea. And it is obvious, who Israel should be with," says Rabbi Moshe Reuven Azman, the Chief Rabbi of Ukraine, in a conversation with RBC-Ukraine.
According to him, certain resonant statements from the Ukrainian side, not only from politicians but also from the so-called "expert community," urging harsh measures against Israel, are causing a lot of damage to bilateral relations. And it's quite evident who benefits from this.
"There's a terrible war going on in Ukraine. Israel is helping, but we can strive for more," says Moshe Azman.
***
The Near East is a unique region with its mentality and traditions, where countries seek to become equal players on the geopolitical stage. Some of them are already prepared for this. However, categorizing it in terms of "black/white," or "ally/enemy" would be incorrect (of course, if we're not talking about Iran), as Near Eastern countries are more partners than allies. However, they can also assist Ukraine, as peace worldwide aligns with their national interests.
For information on Ukraine's relations with African, Asian, and Latin American countries, please follow the links.