Chief Rabbi of Ukraine Moshe Azman: 'Israel is helping Ukraine, but we can strive for more'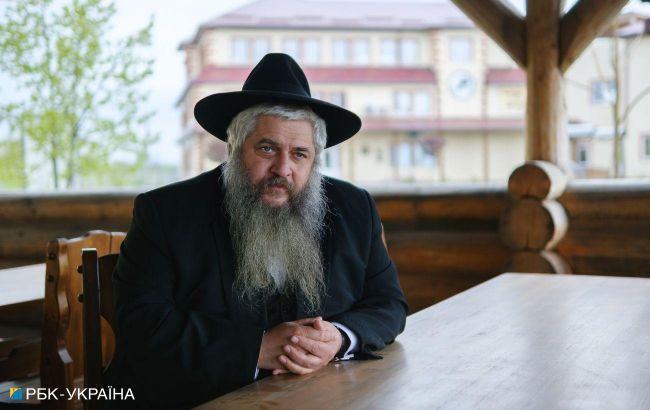 Chief Rabbi of Ukraine Moshe Reuven Azman (All photos: Vitalii Nosach/RBC-Ukraine)
Chief Rabbi of Ukraine, Moshe Reuven Azman, shares his view of the recent conflicts between Ukraine and Israel, and their beneficiaries, assistance from Israel, Russian blackmailing, as well as sentiments within Israeli society in an interview with RBC-Ukraine.
Since the beginning of the full-scale Russian invasion of Ukraine, Israel has been providing our country with certain assistance, but in Kyiv, they openly state that it is insufficient. Israel is one of the few countries in the civilized world whose leader has not visited Ukraine throughout a year and a half of the great war.
Lately, Ukrainian-Israeli relations, which were already difficult to describe as particularly close, have become even cooler. The reason for this is a series of scandalous stories and reports in the media. Currently, the Ukrainian government is considering canceling the visa-free regime for Israeli citizens just on the eve of the Hasidic pilgrimage to Uman. The Israeli government has also revoked medical insurance for Ukrainian refugees. Although this issue has been resolved promptly, it certainly hasn't added positivity to bilateral relations.
Furthermore, there has been information in the media suggesting that Ukraine might demand Israel's exclusion from the Ramstein Coalition due to allegations that Israel is "leaking" information to the Russians. In an interview with RBC-Ukraine, the Chief Rabbi of Ukraine, Moshe Reuven Azman, also continually highlights insulting comments toward Israel made by certain Ukrainian experts. According to him, these statements have a significant resonance and a negative effect on sentiments within Israeli society. Azman even labels accusations of Israel's collaboration with Russia as a "bloody slander."
From the onset of the war, the Chief Rabbi of Ukraine has been actively involved in supporting Ukrainian civilians and military personnel, both through humanitarian aid, generators, and medicines distribution, assistance to forced migrants, and advocacy for Ukraine in Jewish circles in Israel and the West.
"Both I personally and my friends try to explain to Israel how they can help Ukraine. I explain why, how, and for what purpose, that it's our moral duty as Jews, why Israel should do it. For those who don't understand, I say: look, Russia's closest partners now are Iran, Syria, and North Korea. And it is obvious, who Israel should be with," says Azman.
In a conversation with RBC-Ukraine, the Rabbi consistently emphasizes that Ukraine has significant support in Israeli society, among ordinary citizens, not only among those of Ukrainian descent. "Even if we were to say to you that, let's assume, the government (of Israel - Ed.) doesn't provide enough assistance (to Ukraine - Ed.). But the people, humanitarian organizations provide help, people hold demonstrations. I've been to them, thousands and thousands of friends of Ukraine in Israel, both those who come from Ukraine and those who don't, Israelis, immigrants from Russia, who are in the majority pro-Ukrainian," says Azman.
Therefore, any inappropriate comments directed at Israel that sometimes appear in the Ukrainian information space cause genuine indignation in him. "People need to think about what's happening with relations with Israel. And as one of the commentators says that Israel should be treated like Iran, 'crossed out' and the like. What does 'treated like Iran' mean? That Israel supplies (to Russia - Ed.) drones? On the contrary, Israel bombs the factories where drones are produced (in Iran - Ed.)," the Rabbi says.
According to him, Russia is currently essentially blackmailing Israel, having become very close to Iran, whose goal is the destruction of the Jewish state as such. Moreover, Azman explains that Israel also finds itself in a hostile environment – the country has to deal with Iran, Syria, and numerous terrorist groups.
He also shares the concept that Ukraine should become the "Eastern European Israel" in the future – meaning to adopt the model of a state that is successfully developing while constantly facing external threats.
"Ukraine, thank God, has many supporters today. It defends itself against a very formidable and treacherous enemy. But Ukraine has many who are helping both the state and the people today. It's good to have such support. Ukrainian people have united and fought selflessly. But many countries are providing both arms and political support. Therefore, I believe that Ukraine can take an example from Israel," says the Chief Rabbi of Ukraine.
Azman speaks about his recent trips to the USA, Canada, and Britain, where he held many meetings, explaining the current situation in Ukraine and dispelling people's prejudices created by Russian propaganda. He also states that he is ready to continue traveling around the world to help Ukraine.
"I personally do and will do everything, just don't interfere. It's not just undermining all efforts. I see that this is a trend, it's not just some foolish person saying something. And where this originates from, probably Ukrainian law enforcement or intelligence probably know better. Unfortunately, it seems to me that evidence can lead to... Who is interested in this?" Azman poses a rhetorical question, leading to an obvious answer, "Russia - the most interested party in conflicts between Ukraine and Israel."