Ukraine considers suspension of visa-free regime with Israel: Details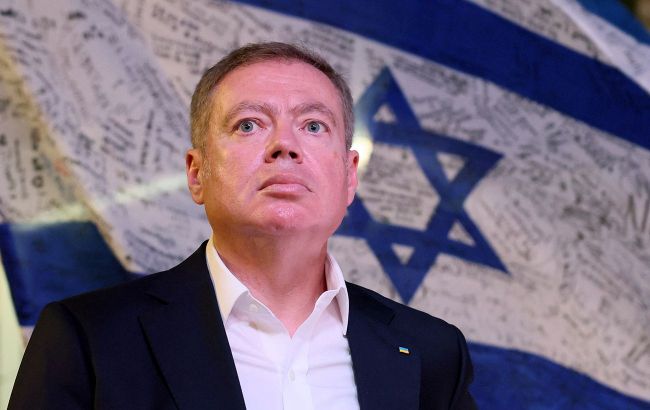 Yevhen Korniichuk, Ambassador of Ukraine to Israel (Photo: Getty Images)
According to the statement of Yevhen Korniichuk, Ambassador of Ukraine to Israel, made during an interview on Radio Svoboda/Radio Liberty, amid discussions in Ukraine, the possibility of suspending the visa-free regime with Israel is being examined. However, it's important to note that this does not imply a rupture of the intergovernmental agreement.
"Presently, in the lead-up to Rosh Hashanah, the question has arisen once again regarding the practicality of diverting a significant number of our state officials during military operations to ensure the security of pilgrims. The matter at hand does not involve a cancellation of the visa-free regime. Rather, the discussion pertains to its suspension. In other words, there was no intention to annul the intergovernmental agreement," he stated.
The Ambassador revealed that approximately 30,000 pilgrims from Israel intend to visit the tomb of tzaddik Nachman in Uman to celebrate Rosh Hashanah (Israeli holiday; celebration of God's creation of the world - ed.).
Yet, Ukraine finds itself unable to safeguard them from potential attacks by Russian occupying forces. Korniichuk emphasized that our country lacks the necessary anti-aircraft defense capabilities to ensure the safety of its cities.
"The embassy insists that if you (Israel) for some reason are unwilling to allocate anti-aircraft defense resources, sell them to protect Ukrainian civilians, perhaps you want to safeguard your own. That's logical," he asserted.
Moreover, Korniichuk labeled Israeli Prime Minister Benjamin Netanyahu's accusations that Western weaponry might fall into the hands of the Russian army and subsequently be transferred to third countries as entirely unsubstantiated.
"The discourse has always revolved around cooperation, particularly in matters of civilian population defense. And you understand that anti-aircraft defense resources are never deployed at the frontlines. They can't be captured by the enemy. We're talking about protecting the deep rear," he added.
Background
Ukraine's consideration of suspending the visa-free regime with Israel stems from issues related to the Israeli authorities' treatment of Ukrainians entering the country.
Recently, the Israeli government decided to revoke medical insurance for refugees from Ukraine. The Ukrainian embassy urged Israeli ministers to reconsider their decision.
Ukraine-Israel relations
Since the beginning of the full-scale war, Israel has declared its neutrality. While providing humanitarian assistance to Ukraine, the country has declined to supply arms and defensive weaponry, including anti-aircraft defense systems.