Battle for South. Why Africa supports Russia and how Ukraine plans to change it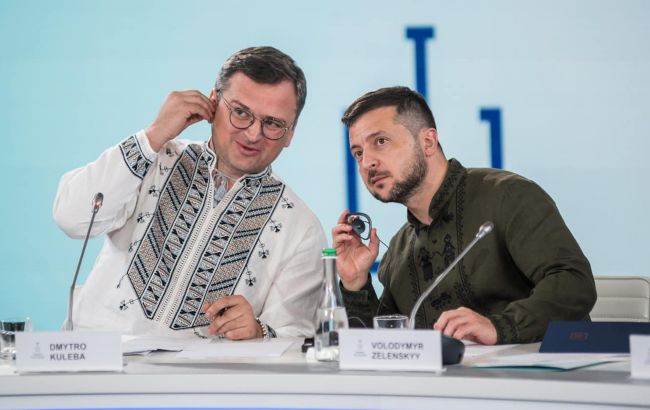 Kyiv is competing with Moscow for the loyalty of African nations (Photo: facebook.com/dmytro.kuleba)
For three decades, Ukraine had not focused on developing relations with Africa, but it has decided to change that. How does Kyiv plan to compete with Moscow for the loyalty of African nations?
Recently, Africa has been appearing more frequently in Ukrainian news. Previously, African countries were mostly featured in the context of military coups or natural disasters, shaping corresponding stereotypes. However, the situation has changed with the onset of the major war in Ukraine.
Africa is now appearing in Ukrainian news in a completely different context. Two diplomatic tours by Ukraine's Minister of Foreign Affairs, Dmytro Kuleba, an African peace plan, a humanitarian grain initiative, and the potential supply of weapons from Russia to South Africa are just a few recent events related to Africa.
The Russian invasion demonstrated that the interdependence between Ukraine and Africa is much greater than it seemed. In particular, the blockade of Ukrainian grain exports nearly led to a humanitarian catastrophe in Africa.
Last year, President Volodymyr Zelenskyy announced the reset of Ukrainian policy toward Africa. Along with that, the first strategy regarding Ukraine's relations with Africa was approved, and a special representative was appointed.
Ukraine has developed an African strategy (Photo: president.gov.ua)
Last fall, Kuleba embarked on his first diplomatic tour of African countries, which marked the beginning of a renaissance in relations between Ukraine and Africa. However, he had to urgently interrupt the trip and return to Kyiv due to the start of massive Russian attacks on energy facilities. But this May, Kuleba returned to Africa and visited Morocco, Ethiopia, Rwanda, Mozambique, and Nigeria.
"Our problem is that, unfortunately, I recognize that, since 1991 when Ukraine gained independence, we were absorbed by our internal issues and our return to European political and legal space after spending 300 years as part of the Russian empire, and we were not paying… the level of attention to Africa that it deserves.," Kuleba explained in an interview with African media.
African strategy of Ukraine
There is a misconception that no one is waiting for Ukraine in Africa, but that is not the case. Ukraine's ties with Africa date back to 1925 when the government of the Ukrainian People's Republic in exile appointed an ambassador to Ethiopia. This became Ukraine's first diplomatic connection with the African continent.
Even then, Ukrainians sought relations with Africa, and Ethiopia was supposed to become a Ukrainian outpost on the continent. However, after gaining independence in 1991, Ukraine openly neglected its relations with Africa.
The Ukrainian government seriously started considering a return to Africa after Kuleba became the Minister of Foreign Affairs in 2020. That's when the African strategy was developed, but with the onset of the Russian invasion, the priorities of Ukrainian diplomacy shifted toward negotiating weapons and sanctions against Russia. However, last autumn, the government began actively implementing the strategy.
Last year, Volodymyr Zelenskyy announced the reset of Ukrainian policy toward Africa (Photo: president.gov.ua)
The African strategy is a document not open to the public. However, the spokesperson of the Ministry of Foreign Affairs, Oleg Nikolenko, explained to RBC-Ukraine that it entails creating new opportunities for the state, businesses, and citizens in Africa and rebooting relations that had not been developed over the past 30 years.
"We want to activate the political dialogue and secure the support of African countries for President Zelenskyy's peace formula. Additionally, Africa offers many prospects for trade activation and cooperation in the economic sphere," he explained.
Dmytro Kuleba stated that Ukraine can provide food, medicine, high-tech equipment, education, diplomatic experience, and much more to Africa. Ukraine is one of the food exporters to Africa and has already sent hundreds of thousands of tons of Ukrainian grain as part of the Grain from Ukraine humanitarian initiative.
Since African countries have historical connections with Russia, Ukraine relies on their pressure on the Kremlin to lift the blockade on the "grain corridor" and end the blockade of Ukrainian ports.
"Russia should not use food as a weapon. Unhindered export of Ukrainian grains will help African countries to get the agricultural products they need. We call on the African Union to declare to Russia the inadmissibility of its destructive policy," Kuleba stated during a meeting with the African Union's leader.
People-to-people contact between Ukraine and Africa has significantly developed thanks to students who came from Africa to study in our country. Before the war, there were quite a few of them, but they had to leave due to security concerns. However, many of these students, as the Ministry of Foreign Affairs says, want to return to Ukraine and continue their education.
Military conflicts are not uncommon in African countries. Therefore, African partners are interested in Ukraine's experience in development amid the war, which, according to Nikolenko, is discussed during every meeting with Ukrainian representatives.
"For them, it is of great interest. They admire that Ukraine demonstrates high results in various fields in difficult conditions and want to learn from this experience," he told RBC-Ukraine.
Ukraine can also offer assistance in the military sphere to Africa, as Ukrainian Ambassador to the Republic of South Africa, Mozambique Liubov Abravitova revealed in a comment to RBC-Ukraine. According to her, a memorandum on military cooperation between Ukraine and Mozambique has been developed. The document is expected to be signed soon.
"Mozambique has a major problem in the northern part of the country. In the Cabo Delgado Province, militants are attempting to establish a so-called Islamic State of Mozambique. Currently, peacekeeping forces are conducting operations there. The experience Ukraine has gained in countering Russian aggression could potentially be used by Mozambique," Abravitova explained.
Ukraine wants to activate the political dialogue with Africa (Photo: facebook.com/UkraineMFA)
One of the African countries that Ukrainians know something about is Rwanda. Although it is primarily associated with a terrible genocide, Rwanda has become the most innovative economy among poor countries worldwide in the past three decades.
Andrii Pravednyk, Ukraine's Ambassador to Rwanda, suggested that this country could partner in nuclear energy. Ukraine is ready to train African specialists and, in the future, participate in the construction of nuclear power plants.
"Apart from construction experts, we have some of the world's best experts in ensuring the safe operation of nuclear power plants. We won't be building power plants tomorrow; it's a lengthy process. But initially, we will work toward signing a memorandum between the relevant institutions of Ukraine and Rwanda, where we will clearly outline the timelines for our cooperation," Pravednyk explained in an interview with RBC-Ukraine.
Meanwhile, Ukraine is interested in building relations based on the formula: "common interests – mutual respect – mutual benefits." Maksym Subkh, Ukraine's Special Representative for the Middle East and Africa, told RBC-Ukraine, anything that fits into this model is of interest to Ukraine.
"At the same time, in political terms, support from African countries for Ukrainian initiatives at the international organizations, particularly the United Nations, is important for our country," he noted.
African position on Ukraine
Africa, like the entire so-called Global South, is considered more friendly toward Russia. However, the positions of African countries vary. The poorest, dictatorial "outcast" countries are the most supportive of Russia.
Apart from overt "friends of Russia" such as Eritrea and the Central African Republic (which are among the poorest countries on the continent), as well as military junta-controlled Sudan, there are many countries in Africa that express support for Ukraine.
Two days before the Russian invasion, Kenyan representative Martin Kimani delivered a hard-hitting speech at a UN Security Council meeting, condemning Russia's decision to recognize the so-called "DNR" and "LNR". "We meet tonight on the brink of a major conflict in Ukraine," said the Kenyan representative, criticizing the ineffective UN Charter and accusing Russia of violating Ukraine's territorial integrity.
"We must complete our recovery from the embers of dead empires in a way that does not plunge us back into new forms of domination and oppression. Multilateralism lies on its deathbed tonight. It has been assaulted today as it has been by other powerful states in the recent past," Kimani emphasized.
Unfortunately, the positions of African countries are changeable. For example, one year into the full-scale war in Ukraine, the President of Kenya referred to Russia as a friend who they rely on for the creation of a "new architecture in the UN Security Council". This is the same Security Council whose effectiveness Russia has been nullifying.
There are friends of Ukraine among African countries (Photo: president.gov.ua)
The position of other African countries toward Ukraine can be traced through their voting in the UN General Assembly. For example, Eritrea, Mali, the Democratic Republic of the Congo, and Nicaragua voted against the resolution condemning Russia's invasion of Ukraine on March 2, 2022. Algeria, Angola, Burundi, the Central African Republic, Congo, Ethiopia, Gabon, Guinea, Mozambique, Namibia, South Africa, Sudan, Togo, Uganda, and Zimbabwe abstained.
As for Mozambique, its position can be explained by neutrality. According to Ambassador Abravitova, Mozambique authorities assure that the country stands in solidarity with the Ukrainian people, and adheres to the UN Charter but, according to the constitution, cannot take sides in any conflict. Therefore, Mozambique consistently abstains from voting on Ukraine-related issues.
"The relations between Ukraine and Mozambique have deep roots, going back to the Soviet Union era. Many students and political elites studied in Ukraine. They are also friendly toward Russia, calling for peace and asking not to be put in a difficult position of having to choose sides," the Ambassador explained.
One of the supporters of Ukraine in Africa is Rwanda. The country consistently votes in favor of UN General Assembly resolutions regarding support for Ukraine, particularly concerning the Ukrainian peace formula. Moreover, Pravednyk revealed that Rwanda is considering the possibility of participating in the implementation of one of its points – food security.
"The President of Rwanda stated during the meeting with Minister of Foreign Affairs of Ukraine Dmytro Kuleba that the issues of justice and territorial integrity are not empty words but actual existential values for his country. Therefore, supporting Ukraine is a natural behavior for Rwanda," Pravednyk emphasized.
Rwanda supports Ukraine in the war against Russia (Photo: mfa.gov.ua)
South Africa has taken an openly pro-Russian position, which is not surprising considering its joint participation with Russia in the BRICS bloc and longstanding friendly relations with Moscow.
South Africa not only failed to condemn Russia's invasion of Ukraine at the UN General Assembly but also conducted joint naval exercises with the Russian ship "Admiral Gorshkov", which displayed the propaganda symbol "Z".
According to Abravitova, the South African government considers Russia's war against Ukraine a proxy war fueled by the US and NATO. The country itself claims to adhere to a policy of non-alignment, which is a form of neutrality, although, in practice, South Africa openly demonstrates a pro-Russian position.
The South African government faced embarrassment by refusing to arrest Russian dictator Vladimir Putin at the request of the International Criminal Court if he attends the BRICS summit in August this year. There were even loud statements about South Africa's withdrawal from the Rome Statute, which were later hastily refuted. Currently, South Africa plans to grant diplomatic immunity to Putin, although it also offered him to participate in the summit remotely.
Recently, Pretoria also faced allegations from the US ambassador regarding the secret supply of weapons to Russia. The South African government immediately denied any assistance to Russia but President Cyril Ramaphosa still instructed the government to conduct an investigation.
Furthermore, Ramaphosa announced his peace initiative regarding Russia's war against Ukraine. Egypt, Senegal, Zambia, Congo, and Uganda have joined the initiative, which involves negotiations between Kyiv and Moscow for the withdrawal of occupiers from the seized territories. During a phone conversation with Ramaphosa, President Zelenskyy proposed that South Africa join the Ukrainian peace formula.
The African National Congress has been ruling South Africa for several decades and has ties with Moscow dating back to the Soviet era. The communists assisted the ANC under the leadership of Nelson Mandela in establishing a military wing that fought against the apartheid regime. Representatives of the ANC were trained and prepared in the Soviet Union.
After the abolition of apartheid in 1994, the ANC became the ruling party in South Africa and remains in power. Since then, Russia, when Ukraine was not significantly present in Africa, has managed to become a strategic partner for South Africa.
Battle for Africa
Russia's efforts to gain the trust of African countries and develop friendly relations with them are aided by the history of the continent. Africa has suffered for centuries under European colonialism, leading to a geopolitical position of some African countries rooted in hatred toward the so-called global West, which is seen as an enemy of Russia itself. In practice, Moscow seeks to appropriate the legacy of Soviet aid to Africa's national liberation movements.
However, it's important to note that 'Russian friendship' often comes with its interests. Russia has been planting roots in the African continent for decades, often motivated by economic gains. For example, Russians are exploiting the Central African Republic, which has gold, diamond, and uranium deposits, in exchange for military and financial support to the current regime.
Sudan is another African country that serves as a "gold mine" for Russia. Last year, CNN journalists discovered that mercenaries from the Wagner private military company were illegally mining Sudanese gold to replenish Russia's reserves and mitigate the effects of Western sanctions.
Such partnerships often have negative consequences for African countries. For instance, earlier this year, an attempted coup in Sudan was organized by Rapid Support Forces, militants who assist Wagner mercenaries in gold mining. The ongoing conflict between Sudanese government forces and militants continues. Wagner mercenaries are also believed to be involved in mass killings of civilians in the Central African Republic.
"It is difficult to call Russia a friend to African countries, as their actions undermine international legality and effectively implement neocolonial policies, seeking to revise internationally recognized borders, which is particularly dangerous for African countries," emphasized Maksym Subkh.
Russia is applying all efforts to gain the trust of African countries (Photo: flickr.com/governmentza)
The spread of Russian influence is also a concern among African countries. Despite Russia portraying itself as a "fighter for African freedom", African partners privately express concern, seeing a threat to their countries. This is particularly true due to the involvement of the Wagner company, which supports coups and steals resources.
"Another threat is Russian propaganda. Russia uses information technologies to destabilize the situation in other countries. African partners told us that they want to learn from our experience in countering propaganda, fighting against fakes, and building strategic communications," explained Nikolenko.
In the fight for African support, Ukraine has its advantage – it is fighting against neocolonialism, which Russia currently represents. Ukraine seeks to constantly convey this message to its African partners, and it resonates with them as they underwent a similar path of armed resistance against colonial oppression several decades ago.
However, while the war continues, Ukraine strives to develop diplomatic ties with Africa. After its first tour of African countries last autumn, Dmytro Kuleba announced plans to train African diplomats. According to the Ministry of Foreign Affairs, Ukraine has already conducted two courses, with the participation of 18 countries and over 200 diplomats.
Nikolenko also told that Ukraine plans to open 10 more embassies in Africa. Agreements have already been reached with Ghana, Rwanda, and Mozambique, and work is underway for others. The Ukrainian government also aims to hold the Ukraine-Africa Summit, although details have not been disclosed yet.
Ukraine's active engagement in Africa causes concern in Russia. Before Kuleba's tour, Russian envoys visited African capitals in an attempt to disrupt meetings or the visit itself. Fearing a loss of influence, Russians even sent their Foreign Minister, Sergey Lavrov, following the Ukrainian minister. However, Nikolenko pointed out that Ukraine is one step ahead.