Hidden dragon: Attitudes toward war and Ukraine's allies in Asia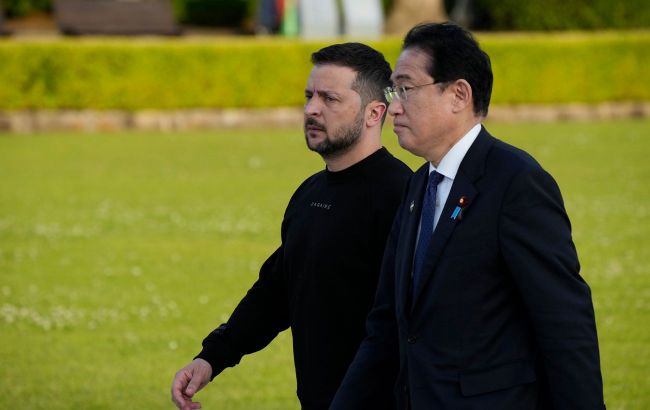 Volodymyr Zelenskyy and Fumio Kishida (Photo: Getty Images)
For nearly a year and a half of full-scale war in Ukraine, the largest Asian countries have yet to pick sides. They resemble a dragon lying in wait, biding their time until it becomes clear who is emerging victorious and who is facing defeat. In this article, RBC-Ukraine tries to explore attitudes toward the war and Ukraine's allies in the region.
The full-scale Russian invasion of Ukraine has underscored the interconnectedness of different continents around the world. For instance, the blockade of Ukrainian grain exports threatens famine in Africa, while Latin America experiences rising food prices due to global market fluctuations.
However, the situation in Asia presents a contrasting dynamic. Powerful nations in this region, such as India and China, are poised to influence the course of the conflict in Ukraine. Seizing the opportunity, India is purchasing Russian oil at discounted rates, a resource Moscow seeks to offload after being shut out of Western markets. Meanwhile, China aids Russia in circumventing sanctions, enabling the continuation of the war.
The Ukrainian leadership is aiming for greater engagement with the Global South to resolve the conflict with Russia. Yet, akin to Africa and Latin America, Ukraine's historical lack of attention to Asia necessitates a renewed effort to secure support from this region.
Great pragmatist
In Asia, notable regional players include China, India, Japan, and South Korea. Beijing holds the greatest sway, shaping the policies of other regional nations in accordance with its stance.
China has publicly adopted a position of neutrality regarding Russia's aggression toward Ukraine while emphasizing adherence to international law. However, it concurrently assists Russia in evading sanctions, enabling the prosecution of the war. Additionally, according to a Politico investigation, Chinese companies are extensively exporting drones and defense equipment to Russia, which are likely finding their way into Russian military hands.
Experts contend that China's behavior stems from pragmatism and its own national interests. Ukraine's ambassador to Beijing, Pavlo Ryabikin, describes China's relationship with Russia as a "marriage of convenience," where Russia becomes a resource supplier for China's competition against the US for geopolitical dominance.
China and India benefit from discounts for Russia's oil and gas (Photo: Getty Images)
Utilizing the gap left by Russia's engagement with European markets, China and India have embarked on a sweeping acquisition of Russian energy resources at staggering discounts. China and India now account for nearly 80% of Russia's exports. However, as noted by Western media, China's interest in the Russian market took a sudden downturn in June, as it shifted its preference towards Iranian petroleum products.
Yet, Russia remains an important ally for China in its rivalry with the US for geopolitical influence. While Beijing seeks a multipolar world and aims to reshape the established international order, it does so cautiously. In contrast, Moscow, acting as a willing partner, is more inclined to take bold action, states Natalia Butyrska, an expert on East Asia in a conversation with RBC-Ukraine.
According to Ryabikin, Ukraine seeks greater involvement from China in its international initiatives for ending the Russian war and addressing its aftermath, particularly within the framework of the Ukrainian peace formula. However, China's vision on this issue. On the anniversary of Russia's invasion of Ukraine, Beijing presented its "peace formula," outlining its position on political conflict resolution.
While the Chinese "formula" comprised 12 points, it doesn't address the withdrawal of Russian troops, yet it encourages an end to hostilities and negotiations. China's stance might be interpreted as an attempt to seat Ukraine at the negotiation table with Russia, though it's unlikely that this is intended to achieve a just peace.
China's Special Representative, Li Hui, even visited Ukraine to lay the groundwork for "Chinese diplomacy." Nonetheless, his visit to both Ukraine and the EU essentially ended in failure, as European partners didn't endorse Beijing's initiatives, including the notion of territorial concessions to Russia.
Experts widely speculate that China finds a war in Ukraine advantageous, as it weakens Russia and increases Moscow's dependence on Beijing. Still, according to Butyrska, this doesn't necessarily mean that China benefits from the war's continuation, as it incurs negative consequences. Anti-Russian sanctions have forced China to alter logistical routes, and certain Chinese companies risk Western restrictions due to their collaboration with Russia.
Furthermore, China's proximity to Moscow strained its relations with the EU, despite substantial trade ties. The war also refocused the West's attention on the issue of Taiwan, which is a core national goal for China to reclaim.
In May, China's Special Representative Li Hui visited Ukraine (Photo: fmprc.gov.cn)
In the ongoing conflict between Ukraine and Russia, China's role and influence have garnered significant attention. Western leaders have repeatedly called on Beijing to leverage its influence over Moscow to help bring an end to the conflict. China's potential to coerce Russia into withdrawing its troops from Ukraine and engaging in negotiations has been a subject of speculation. However, it appears that compelling Russia toward peace isn't on China's agenda. Beijing consistently projects a facade of neutrality, refraining even from condemning acts of Russian aggression, such as the shelling of the Chinese consulate building in Odesa.
"The reasons for this seeming reluctance lie in the extremely close interaction between the two nations. They present a united front, share common positions on the international stage, coordinate their actions, and support each other against their shared adversary, the Western bloc," explains Ryabikin.
Nevertheless, there have been instances when China wielded its influence to restrain Russia. Earlier this July, the Financial Times reported that Chinese leader Xi Jinping purportedly cautioned Putin against using nuclear weapons in the war with Ukraine during his March visit to Moscow. Chinese officials asserted that nuclear restraint is a central aspect of China's effort to mend strained ties with Europe.
Predicting China's future support for Moscow remains uncertain. However, China's interests are not served by a Russian defeat that might lead to the disintegration of Russia, as Butyrska points out. The collapse of Russia would destabilize a region that China values. Additionally, a regime change in Russia isn't in China's favor either, as it's unclear whether a new leadership would maintain the partnership under current terms.
"If the Putin regime collapses, it will pose a challenge to China," she summarizes.
Recent developments suggest a glimmer of hope that Beijing might reconsider its stance on the war and Ukraine. The Wall Street Journal revealed China's plans to participate for the first time in discussions on the Ukrainian peace formula in Saudi Arabia. China's intent was later confirmed by the dispatch of Li Huey to the mentioned meeting.
This shift in China's position could be attributed to Russia's behavior, including its obstruction of the grain corridor. China stands as a major importer of Ukrainian agricultural products. The unrest stirred by Prigozhin, demonstrating Putin's regime's inability to handle challenges, further played into this change.
A potential catalyst for China's policy shift could be a meeting at the leadership level, which Zelenskyy has repeatedly proposed. Yet, apart from a phone call between the two heads of state in April 2023, no further progress has been made. Nonetheless, according to Ambassador Ryabikin, Ukraine remains open to communication.
"If Beijing expresses interest in another round of dialogue between our heads of state, especially in a personal meeting between them, I believe Zelenskyy will readily meet with Xi Jinping. We have substantial matters to discuss with China. Naturally, the first topic for discussion is peace. A just and enduring peace in Ukraine, Europe, and the world," he emphasizes.
Neutral leader of the Global South
India also maintains a unique neutrality toward the Ukraine conflict. Despite being a major regional player, India abstained from voting on key UN General Assembly resolutions concerning Ukraine, including those condemning Russia's aggression and the Ukrainian peace formula. Simultaneously, India, along with China, remains a significant buyer of Russian energy resources, which contributes to Russia's war efforts.
India's approach echoes its Cold War-era policy of non-alignment, which is apparent even today. India's ties with Russia date back to the Soviet era when the USSR supported India in its conflicts with Pakistan. Meanwhile, Ukraine supplied arms to both India and Pakistan during their conflicts, leaving a lasting impact on India's relations with Kyiv, as Butyrska notes.
India participated in Zelenskyy's peace formula Summit (Photo: GettyImages)
India, too, is juggling its relations, including territorial disputes, with China, which is drawing closer to Russia. Balancing these dynamics, India seeks not to become overly dependent on China and to maintain its friendship with Moscow.
"Therefore, India attempts to sustain relations with Russia even in this situation, engaging in trade. They've even invited Putin to the G20 Summit. This is a unique feature of India's policy. It preserves room for relations with Russia," explains the expert.
India's aspiration to assert itself as a leader safeguarding the interests of the Global South may explain its stance. This could clarify some of India's statements concerning the conflict. For instance, India's Defense Minister Rajnath Singh criticized the West for its limited attention to conflicts beyond its regions while demanding global involvement in their own concerns.
Ukraine's partners, including the US, Japan, and the EU, consistently raise the topic of Ukraine in their interactions with Indian representatives, seeking to persuade New Delhi to support Kyiv against Russia. Ukraine maintains communication with India, and this multifaceted effort is beginning to yield results. Neutral India has also joined the discussions on the Ukrainian peace formula in Saudi Arabia.
Yet, India refrains from utilizing its influence within the G20, which it is hosting this year. Often, G20 ministerial meetings conclude without a joint communique due to disagreements over the Ukrainian conflict. Strikingly, India has not extended an invitation to Ukraine for the September G20 summit in New Delhi, despite the evident significance of the conflict as a key issue.
"In our view, G20 participation is meant for members and organizations we've invited. We've announced this list as we began G20 preparations," explains India's Foreign Minister Subrahmanyam Jaishankar.
Asian advocates of Ukraine
While China and India are capitalizing on the situation for their own interests and displaying a sort of neutrality, countries such as Japan, South Korea, and Taiwan have closely embraced the war in Ukraine. This is because it affects the global landscape.
"They are our allies and Japan is our significant Asian advocate," emphasizes Butyrska in a conversation with RBC-Ukraine, reminding that Tokyo also chaired the Group of Seven this year, advancing Ukrainian interests there.
These countries actively support Ukraine and uphold Ukrainian interests in Asia, particularly Japan. In March of this year, for the first time since the war began, Japanese Prime Minister Fumio Kishida visited Ukraine and signed a statement with Zelenskyy on the special global partnership between the countries. Kishida's visit coincided with Xi Jinping's meeting with Putin in Moscow, essentially showing who supports whom in this war.
Japan can be considered an advocate of Ukraine in Asia (Photo: Getty Images)
Japan actively engages in supporting Ukraine during the war. The country's laws prevent it from providing arms to others, so Tokyo assists Kyiv financially and in humanitarian efforts. Just last year, Japan allocated over one and a half billion dollars in aid to Ukraine. The country also enforces its own sanctions against Russia, including the prohibition of exporting drones and components for them, radio equipment, aluminum, and steel.
A similar situation unfolds in South Korea. Last year, Seoul provided 100 million dollars in humanitarian aid to Ukraine, and this year increased its assistance by an additional 50 million. South Korea is one of the world's major arms exporters, including "indigenous" designs, making military aid from Seoul beneficial to Ukraine.
While the office of South Korean President Yoon Suk Yeol does not rule out military aid to Ukraine, parliamentary dominance by the Democratic Party, according to Butyrska, impedes this. The Democrats, as explained by the expert, lean towards closer ties with China and Russia, believing they could help resolve the conflict with North Korea.
However, South Korea seems to have found a way to provide military support to Ukraine after all. The United States assisted them in this regard by contracting the supply of artillery shells intended for Ukrainian forces. Similar agreements, according to Western media reports, could be possible with Japan.
South Korea increased its assistance to Ukraine this year (Photo: Getty Images)
Tokyo and Seoul support Ukraine on both diplomatic and international levels. This is evident in their votes at the UN General Assembly and participation in Ukrainian diplomatic initiatives. Specifically, South Korea took part in a meeting regarding the peace formula in Saudi Arabia's Jeddah, while Japan invited Zelenskyy to the G7 summit.
Another ally for Ukraine is Taiwan. However, its support is limited to financing various Ukrainian infrastructure projects. As Butyrska explains, this is due to Ukraine's stance on the "One China" policy and its careful approach in contact with Taiwan to avoid harming complex relations with Beijing.
The detached South
Most countries in Southeast Asia, particularly ASEAN members, hold a largely uniform and detached position on Ukraine. Almost all UN-affiliated countries, excluding Laos and Vietnam, support Ukrainian resolutions condemning Russia's aggression. However, this generally concludes their involvement, notes Butyrska. These countries aim to distance themselves from the war issue, often aligning with China's position.
Notably among them is Singapore, which joined Western sanctions against Russia, and Cambodia, which offers humanitarian assistance to Ukraine. However, Cambodia seeks to balance between Ukraine and China, a Russian ally.
For instance, Cambodia initially offered to help Ukraine with demining. This was significant for Ukraine since Cambodia possesses vast demining experience after its civil war. Initially, Cambodia expressed readiness to send its instructors to Ukraine. Later, likely to avoid damaging relations with China and Russia, this idea was abandoned, and Ukraine's demining personnel were trained in Cambodia.
Nonetheless, Cambodian Prime Minister Hun Sen publicly stated that such aid to Ukraine is a "purely humanitarian act," and added that Cambodia is also ready to train Russian sappers in demining. Despite this, in January, the first group of Ukrainian sappers completed their training in Cambodia.
"We don't hear from other countries. That's the overall tendency. They adhere to neutrality, and support international law, but don't actively engage," Butyrska concludes.
ASEAN members, Singapore and Cambodia, extend aid to Ukraine (photo: mfa.gov.ua)
In a display of international solidarity, members of the Association of Southeast Asian Nations (ASEAN), notably Singapore and Cambodia, are offering assistance to Ukraine. Amid the ongoing Russian-Ukrainian war, these nations have stepped forward to provide support, highlighting their concern for the crisis.
Last year, Indonesia, which chaired the G20, exhibited a keen interest in the Russian-Ukrainian war. The Indonesian government invited President Zelenskyy to a summit in Bali and called on Russia to pursue peace. Notably, Indonesia's president became the first Asian leader to visit Ukraine since the war began. However, this interest waned after Indonesia concluded its G20 leadership role.
This June, Indonesia reasserted itself on the global stage. At the prestigious Shangri-La Dialogue, the largest security forum in Asia, Indonesian Defense Minister Prabowo Subianto unveiled his own "peace plan" aimed at resolving the Ukrainian-Russian conflict. Subianto's plan proposed freezing the conflict using a scenario akin to the Korean Peninsula situation and suggested a referendum for the disputed territory.
Unsurprisingly, this proposal sparked strong reactions within Ukraine. Defense Minister Oleksii Reznikov characterized his Indonesian counterpart's proposition as "strange," stating it resembled a Russian plan rather than an Indonesian one. Ukrainian Ministry of Foreign Affairs officials also criticized Subianto's statement.
Oleh Nikolenko, a spokesperson for the Ukrainian Ministry of Foreign Affairs, emphasized, "There are no disputed territories between Ukraine and the Russian Federation that warrant referendums." He underscored that the sole feasible resolution to the conflict involves the withdrawal of Russian forces from Ukraine.
However, according to Butyrska, the Indonesian defense minister's statement is a personal initiative and not Jakarta's official stance. The expert noted that Indonesia's presidential elections are slated for February next year, in which Subianto will participate. Therefore, this move might be construed as an attempt by the Indonesian minister to score political points.
In search of support
For decades following its independence, Ukraine did not pay enough attention to the Global South. It primarily concentrated on fostering economic ties with China. The expansive Russia-Ukraine conflict, however, significantly altered this partnership. To garner support from the Global South, particularly Asia, Ukraine must secure backing from key regional players, notably China and India. Recent ambassadorial appointments in these countries may facilitate this endeavor.
Still, Butyrska believes that Kyiv should seek alliances beyond these traditional partners to advance Ukrainian interests. Countries such as Japan and South Korea might emerge as pivotal supporters.
Ultimately, as the Russian-fueled war transcends Ukraine's borders, all of Asia must decide where it stands. The impact of this "Eastern dragon," referring to Russia, resonates across the world's regions. Whether it aligns with Ukraine or its partners will significantly shape the outcomes.