Zelenskyy calls for disarmament of Russia: Terrorists have no right to have nuclear weapons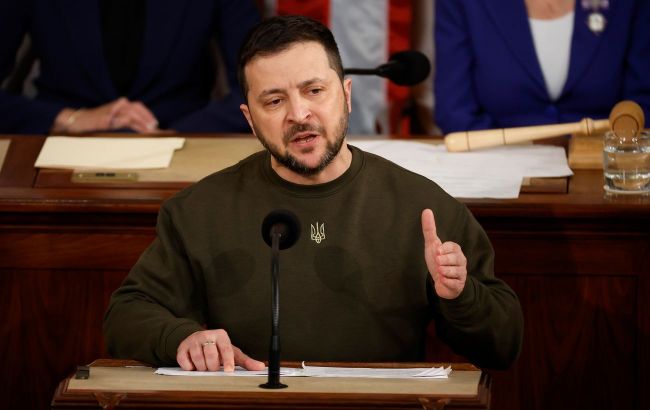 Photo: Ukrainian President Volodymyr Zelenskyy (Getty Images)
The President of Ukraine, Volodymyr Zelenskyy, stated that terrorists have no right to possess nuclear weapons and Russia must be disarmed.
"Ukraine has handed over its entire arsenal, while Russia has not. History shows it was Russia who deserved nuclear disarmament the most back in the 1990s, and Russia deserves it now," the President emphasized.
However, according to Zelenskyy, Russia now also deserves disarmament.
"Terrorists have no right to hold nuclear weapons... While nukes remain in place, the mass destruction is gaining momentum. The aggressor is weaponizing many other things" the head of state added.
He also emphasized that despite the many conventions that limit the possession and proliferation of weapons, there are no real restrictions on the use of food, energy, and other items as weapons.
Zelensky's speech at the UN General Assembly
Today, September 19, the President of Ukraine spoke at the debates of the United Nations General Assembly.
RBC-Ukraine has compiled the key statements from the speech of the Ukrainian head of state.
Nuclear disarmament
In addition to Russia, which clearly threatens its nuclear arsenal, several other countries are rapidly developing this area. For example, according to the Dutch intelligence report, Iran continued its nuclear program last year. The country continues to increase its stocks of uranium enriched to 20% and 60%. Using centrifuges, it can be further enriched to the 90% necessary for nuclear weapons.
North Korea is also continuing its developments in nuclear weapons. They regularly conduct illegal ballistic missile launches and recently announced the launch of a new nuclear submarine.
Nuclear weapons have also appeared in Belarus. The Belarusian Ministry of Defense has reported that Russia has already handed over the first samples to them, but self-proclaimed President Alexander Lukashenko will not be able to use them.
In this regard, German Chancellor Olaf Scholz stated that new negotiations on nuclear disarmament are necessary. These negotiations should include not only the United States and Russia but also China.