Peace Formula and Russia's nuclear disarmament: Zelenskyy's key statements at UN General Assembly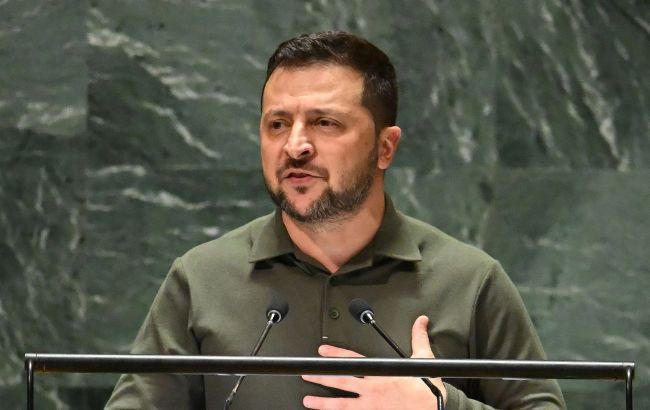 President of Ukraine Volodymyr Zelenskyy (Photo: Getty Images)
Ukrainian President Volodymyr Zelenskyy today, September 19, addressed the United Nations General Assembly debate.
RBC-Ukraine has compiled the key statements from the speech of the Ukrainian head of state.
Russia should be deprived of nuclear weapons
The head of state notes that Ukraine has given up its third-largest nuclear potential, and the world has entrusted it to Russia.
"Yet history shows it was Russia who deserved nuclear disarmament the most back in the 1990s. And Russia deserves it now: terrorists have no right to own nuclear weapons," he added.
Political theater in Europe due to grain imports
Zelenskyy reminds that Ukraine is working on preserving export routes for grain transportation.
"It is alarming to see how some in Europe. Some our friends in Europe play out solidarity in political theater, making thriller from the green. And they may seem to play their own role, but in fact they are helping, helping to accept this stage for the Moscow actor," the president said, hinting at restrictions imposed by Poland, Hungary, and Slovakia.
Child abductions - genocide
"Unfortunately, various terrorist groups abduct children to put pressure on their families and societies, but never before the mass kidnapping and deportations would become a part of a government policy. Not until now. ...Those children in Russia are taught to hate Ukraine, and all ties with their families are broken. And this is clearly a genocide," Zelenskyy emphasized.
Russia starts a war each decade
"Each decade, Russia starts a new war. Parts of Moldova and Georgia remain occupied. Russia turned Syria into ruins. And if not Russia, the chemical weapons would never have been used there in Syria. Russia has almost swallowed Belarus. It is obviously threatening Kazakhstan, and other Baltic states," Zelenskyy stressed.
Peace Formula at the UN Security Council
According to the President of Ukraine, the Peace Formula has become the basis for restoring the existing security architecture.
"Now we can bring to life the UN Charter and guarantee the full power for the rules-based world order. And tomorrow, I will present the details at a special meeting of the UN Security Council," Zelensky stated.
He mentions that the Peace Formula has become global, as over 140 states have supported it in full or in part.
Invitation to Peace Summit preparation
"Important talks and consultations were held in Hiroshima, in Copenhagen, and in Jeddah on the implementation of the Peace Formula. And we are preparing for a Global Peace Summit. And please, I invite all of you—all of you who don't tolerate any aggression—to jointly prepare for the Summit," the President of Ukraine declared.
Zelenskyy's visit to the USA
President of Ukraine Volodymyr Zelensky arrived in the United States on the evening of September 18.
He traveled to New York, where he visited Ukrainian defenders receiving treatment and rehabilitation there after being wounded on the frontlines.
During his visit, the president is participating in the United Nations General Assembly and the United Nations Security Council meetings. He is also scheduled to have a series of bilateral meetings.
As previously stated by the head of the Office of the President, Andriy Yermak, Zelenskyy planned to make a clear proposal to the United Nations.
It is already known that the head of the Ukrainian state will hold talks with the U.S. Secretary of Defense Lloyd Austin and President Joe Biden in Washington. According to reports, he may also meet with the President of Brazil, Luiz Inácio Lula da Silva.
For more detailed information on what to expect from Zelenskyy's trip to the United States, you can read in RBC-Ukraine article.