Zelenskyy in the U.S.: Trip's agenda and ATACMS for Ukraine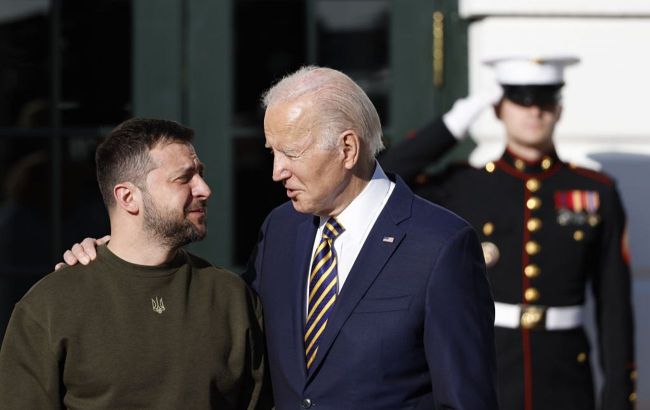 Volodymyr Zelenskyy and Joe Biden (Getty Images)
This week, Ukrainian President Volodymyr Zelenskyy arrived in the United States for the second time since Russia's full-scale invasion of Ukraine. There, he will address the UN General Assembly and is scheduled to meet with U.S. leader Joe Biden. Read below about what to expect from Zelenskyy's trip to the United States and whether Ukraine will be getting ATACMS.
Plans for the General Assembly
The 78th session of the United Nations General Assembly kicks off today in New York, with leaders from all member nations of the organization typically participating. It was announced earlier in September by the Albanian ambassador to the UN, Ferit Hodja, that President Zelenskyy would make a historic physical appearance at the General Assembly.
"This is almost confirmed, although it's not up to me, that President Zelenskyy will be present in New York," stated the Albanian representative.
This marks Zelenskyy's first visit to the UN headquarters in New York since the full-scale Russian invasion of Ukraine. He, like other world leaders, is expected to address the General Assembly and, for the first time, directly participate in a meeting of the UN Security Council.
This year, leaders of UN member countries will convene at the General Assembly to explore solutions to interconnected global challenges, aiming to strengthen peace, security, and sustainable development, as stated on the organization's website. Zelenskyy's speech at the General Assembly is expected later today, closer to nighttime Kyiv time.
The Ukrainian delegation, according to Ukraine's Minister of Foreign Affairs, Dmytro Kuleba, has three main priorities for this year's General Assembly session. The first is to involve new UN member states in implementing the Ukrainian peace formula. Second, on Ukraine's agenda is the export of Ukrainian grain, and third, bilateral meetings concerning new weaponry and aid packages.
Polish President Andrzej Duda and Israeli Prime Minister Benjamin Netanyahu have both announced plans to meet with Zelenskyy. However, Ukraine's relations with Poland and Israel have seen challenging times recently.
In August, a scandal erupted between Kyiv and Tel Aviv over Israel's position regarding military aid and Ukrainian refugees. From the Ukrainian side, there were even threats to suspend visa-free travel just before Rosh Hashanah. Meanwhile, Ukraine's relationship with Warsaw has been strained over grain trade, as Poland restricts the import of Ukrainian grain to its market, causing dissatisfaction in Ukraine. The Polish president has expressed his desire to discuss this issue with Zelenskyy in person.
However, the most anticipated and critical meeting is Zelenskyy's upcoming rendezvous with President Biden, which will be their fourth meeting this year.
White House meeting with ATACMS on the agenda
Last week, U.S. National Security Advisor Jake Sullivan revealed to the media that a meeting between the leaders of the United States and Ukraine would take place this Thursday. Zelenskyy will visit Washington, D.C., where he will attend the White House and the U.S. Capitol. This will mark his third meeting with President Biden at the White House.
Zelenskyy and Biden have a substantial list of topics to discuss, with the primary focus expected to be on financial and military assistance to Ukraine, particularly the provision of ATACMS missiles to Ukrainian forces. President Zelenskyy himself mentioned plans to discuss this issue with Biden.
"I believe he can turn the page on this war. He already did it once with HIMARS. We're making progress. I hope we will get them (missiles) in the fall," stated the Ukrainian president.
Zelenskyy to meet with Biden at the White House (photo: Getty Images)
Earlier this autumn, U.S. media reported that the U.S. president was close to approving the supply of these weapons, but a final decision has not yet been made in the White House. It appears that the ultimate decision on long-range missiles, which Ukraine has been requesting for over a year, may be postponed until the meeting with Zelenskyy. Ukrainian political analyst Volodymyr Fesenko concurs with this notion.
"There are two versions. The first is that they are simply delaying it until the visit to announce it during Biden's meeting with Zelenskyy. This is the most likely version. Or Biden is still wavering, and the decision will be made after the meeting," he said in a comment to RBC-Ukraine.
However, a pessimistic scenario cannot be ruled out, where the Biden administration continues to hesitate about transferring long-range missiles to Ukraine and does not make a decision during Zelenskyy's visit. This was the case with Abrams tanks, the approval for the supply of which was expected during the Ukrainian president's visit to the U.S. in December of last year. However, a relevant decision was eventually made in the White House.
"Most likely (Zelensky will return with a decision on ATACMS), but not 100%. I wouldn't rush to make final conclusions to avoid jinxing it. So, we'll be cautious in our forecasts and assessments. The likelihood of a decision is high but not 100%," said Fesenko.
Not by missiles alone
Ukraine's President Zelenskyy's upcoming visit to Washington will undoubtedly revolve around discussions on arms deals. However, according to experts, during his stay in the U.S. capital, a range of other pressing issues will be on the table. These include the extension of military and macroeconomic aid to Ukraine, guarantees of security from the United States, the fight against corruption in Ukraine, and more. Second only to providing arms to Ukraine, the question of continued financial support from the U.S. is expected to take center stage.
As the U.S. gears up for an approaching election campaign, it is expected to influence Washington's decisions regarding Ukraine, particularly regarding financial assistance. Currently, there are ongoing debates in the American Congress over the allocation of an additional $24 billion in aid to Ukraine, as requested by the Biden administration. Complicating matters is the stance of the Republican Party, with a third of its members opposing further aid to Ukraine.
Zelenskyy addressed the US Congress last year (photo: Getty Images)
This Thursday, as reported by CNN, Zelenskyy is scheduled to visit Capitol Hill, home to the U.S. Congress, where he plans to meet with American senators. However, in the Senate, as explained by experts, there should be no issues with support for Ukraine, as the majority of Senate seats are held by Democrats. The situation is different in the U.S. House of Representatives, where the majority belongs to Republicans.
During his visit to the U.S. last year, the Ukrainian president addressed Congress and urged continued assistance to Ukraine, emphasizing that it is not charity but rather an "investment in global security and democracy." However, this time around, there won't be a speech before Congress, as per a source from the Republican Party speaking to CNN.
"It should be understood that Zelenskyy won't address the U.S. Congress as he did last time. Typically, foreign leaders address the U.S. Congress only once. It doesn't happen every time, and it occurs during an official visit, while this is a working visit with the main objective being participation in the General Assembly," explained the expert.
Nonetheless, political analysts believe that the issue of continuing aid to Ukraine will ultimately be resolved, even though it may be complicated by the electoral battle between Democrats and Republicans.
"Will Zelenskyy manage to resolve this issue? Unfortunately, not everything depends on our president. But I think this issue will be resolved because it's not just about Zelenskyy or Biden; it's about U.S. interests. Supporting Ukraine is in the interests of the United States," summarized the expert.