Duda confirms meeting with Zelenskyy in New York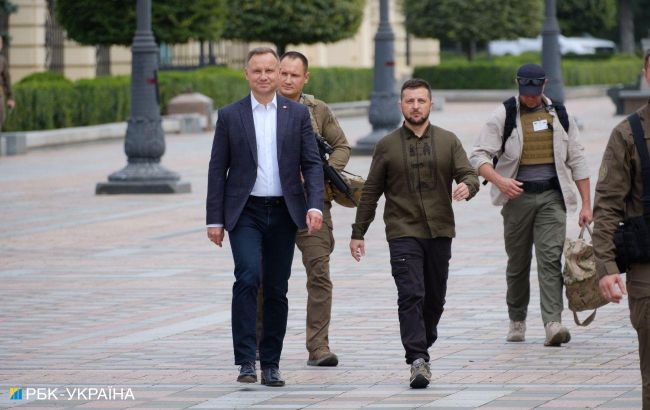 Andrzej Duda and Volodymyr Zelenskyy (Vitalii Nosach, RBC-Ukraine)
Polish President Andrzej Duda has confirmed a meeting with Ukrainian leader Volodymyr Zelenskyy, which is scheduled to take place in New York, according to Duda's office.
According to the office of the Polish president, among other topics of discussion will be the import of Ukrainian grain.
In a statement to PAP, stated that Warsaw will defend its interests regarding the import and sale of grain.
"The fact that Ukrainian grain is being sold in Poland is absolutely not in our interests, nor in the interests of our farmers. We must protect our market, and we will do so while trying to help Ukraine," Duda said.
Backstory
Poland previously announced the meeting between Duda and Zelenskyy, with authorities stating that the presidents would meet in the near future.
Next week, from September 19 to 25, world leaders will gather in New York for the UN General Assembly. The President of Ukraine will also travel to the United States. According to The Washington Post, Zelenskyy will visit Washington and address the Capitol.
Grain issues
In May 2023, the European Union allowed five countries bordering Ukraine to impose a ban on the sale of Ukrainian wheat, corn, rapeseed, and sunflower seeds on their domestic markets.
Poland, Romania, Slovakia, and Hungary are calling on the EU to extend the ban on the import of Ukrainian grain. Meanwhile, Ukraine is urging the removal of these restrictions.