Will F-16s aid in breaking Russia's defenses in east and south of Ukraine? Ukraine's Armed Forces insight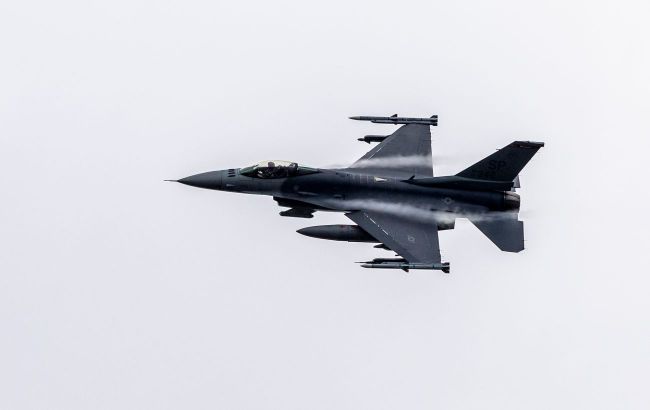 Illustrative photo (Photo: Getty Images)
The use of Ukrainian F-16 fighter jets by the military plays a significant role and will definitely be reflected on the front lines. Planning a corresponding operation will be necessary for breaking through the occupiers' defenses, according to the press secretary of the Eastern Military Group of the Armed Forces of Ukraine, Ilia Yevlash.
"Aviation alone, without infantry and tank units, does not play such a key role. Of course, all of this must be part of a comprehensive plan of coordinated actions with our partners, allies, and neighboring countries involved from the left and the right," the statement reads.
Yevlash explains that this should be a carefully planned operation in combination with new weaponry that is still being delivered. Additionally, the military will need to use high-precision long-range weapons, such as HIMARS, as well as Storm Shadow/SCALP EG missiles.
The F-16s will have an impact on the situation at the front
The Chief of the Press Service of the Eastern Military Group of the Armed Forces of Ukraine notes that all of this will undoubtedly play a significant role, both in terms of morale and psychology, and will have an overall impact on the front.
"Furthermore, the F-16 fighters should be regarded as a comprehensive system capable of delivering firepower to all types of targets, including airborne, ground, and maritime. Therefore, we will await the delivery of these critically needed aircraft and assess the situation as the operational environment unfolds," Yevlash explained.
F-16s for Ukraine
Several European countries, as part of an aviation coalition, have agreed to provide training for Ukrainian pilots on F-16 fighters.
In this regard, the Netherlands, Denmark, and Norway have agreed to provide Ukraine with at least 61 fighter aircraft.
According to The Wall Street Journal, Ukrainian and Western officials expect Ukrainian pilots to start performing combat missions on Western F-16 fighters as early as this winter. Meanwhile, the Netherlands believes that Ukraine will receive the fighters next year.
Previously, Yurii Ihnat, the spokesperson for the Ukrainian Air Force, stated that Ukraine needed approximately 128 aircraft to gain an advantage in the skies and replace its aging aircraft fleet.