F-16 to start operating in Ukraine earlier than anticipated - WSJ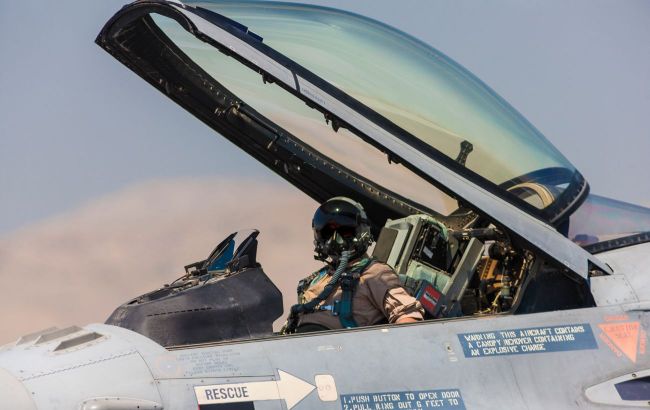 American F-16 fighter (photo: Getty Images)
In Ukraine, it is assumed that Ukrainian pilots on F-16 fighters will start carrying out combat missions as early as this winter, according to Wall Street Journal.
According to the Wall Street Journal, Ukrainian and Western officials, taking into account the timing of the pilot training in the United States, expect that several Ukrainian fighters may be ready to carry out combat missions as early as February 2024.
Language barrier
According to WSJ sources in Ukraine, the US can train pilots proficient in English within five months. The group sent for training reportedly consists of fewer than 10 pilots who have a sufficient command of English.
A representative from the US Department of Defense stated that these pilots will proceed directly to flight training at the Morris National Guard Base in Tucson, Arizona, home to the 162nd Fighter Wing.
Simultaneously, dozens of Ukrainian pilots will start an English language course at Lackland AFB in San Antonio.
Former Commander of US Forces in Europe, Ben Hodges, believes that officials are "overly concerned" about the level of English proficiency.
"They need to operate an aircraft, not necessarily read Shakespeare," he said.
However, English language training is just one of the obstacles preventing the commencement of combat use of the F-16s in Ukraine.
The F-16, for instance, requires approximately 16 hours of ground maintenance for every hour in the air, and training the maintenance personnel may prove to be an even more challenging task than pilot training, as per the report.
F-16 for Ukraine
Several European countries, as part of an aviation coalition, have agreed to conduct training for Ukrainian pilots on F-16 fighter jets. Additionally, the United States has confirmed the start of training in October at the National Guard Base in Arizona.
Following President Volodymyr Zelenskyy's visit to Europe, agreements were made regarding the transfer of F-16. The assistance is coming from the Netherlands, Denmark, and Norway, who are willing to transfer at least 61 fighter jets.
Commander-in-Chief of the Armed Forces of Ukraine, General, Valerii Zaluzhnyi, has stated that some Ukrainian pilots undergoing training in Denmark are already prepared to begin flight training.
Previously, Minister of Defense of Ukraine, Oleksii Reznikov mentioned that Ukraine might receive the first F-16 aircraft no earlier than 6-7 months from now.