White House confident Congress approve additional funding for Ukraine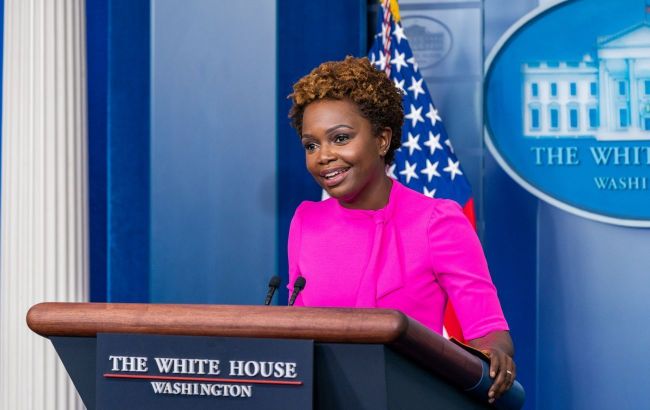 White House Principal Deputy Press Secretary Karine Jean-Pierre (photo: Getty Images)
The administration of US President Joe Biden is looking optimistically towards Congress passing a request for additional aid to Ukraine on a bipartisan basis, despite the fact that representatives of the Republican Party in the House of Representatives have expressed opposition to such an initiative, according to CNN.
An official noted that the Biden administration is appreciative of the bipartisan support for Ukraine.
As the White House representative added, Biden is "confident that that support is going to continue as we work together to make sure that the Ukrainian people have everything that they need to continue to fight bravely for their freedom."
In a letter to Congress Thursday, the Biden administration requested more than $24 billion in supplemental funding, including more than $13 billion in security assistance and $7.3 billion for economic and humanitarian assistance for Ukraine.
Jean-Pierre said Office of Management and Budget Director Shalanda Young and members of the president's legislative affairs team "have had, numerous, numerous conversations, numerous calls with lawmakers on the ground, with both parties to explain exactly the need and the highlight for... and highlight the emergency nature of this request."
White House Principal Deputy Press Secretary also said the administration will continue to engage with Congress and that they believe "this will continue in a bipartisan way."
Additional funding from the US for Ukraine
On August 10, US President Joe Biden submitted a request to Congress for approximately $40 billion in emergency funding, with a portion of these funds - $24 billion - allocated for assistance to Ukraine.
Prior to this, the Pentagon revealed that the agency had around $6 billion remaining for aid to Ukraine. It's worth noting that earlier, the US Department of Defense conducted an assessment of the value of military equipment it had sent to Ukraine and found that it had been overestimated by approximately $3 billion.
Furthermore, it is noteworthy that recently, John Kirby, the National Security Council Coordinator for Strategic Communications at the White House, pointed out that the Biden administration is considering a new appeal to Congress for additional funds to assist Ukraine, should the need arise.