Biden requests additional funds from Congress for Ukraine aid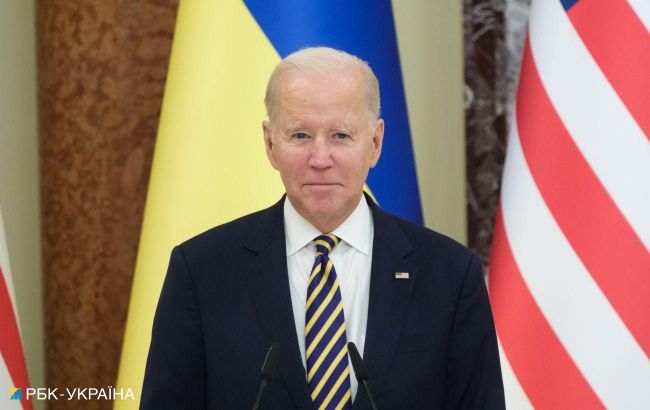 President of the United States Joe Biden (Photo: Vitalii Nosach- RBC-Ukraine)
President of the United States, Joe Biden, has addressed Congress and submitted a request for additional funding amounting to approximately $40 billion in emergency financing. Part of the funds will be allocated to Ukraine, according to the U.S. Treasury Secretary, Janet Yellen.
According to journalists, $24 billion will be allocated for further military assistance to Ukraine.
Reportedly, the $40 billion that Biden requested from Congress includes:
$24 billion for Ukraine and other international needs;
$4 billion for border security;
$12 billion for disaster relief assistance.
As Yellen states, the United States remains steadfast in its support for the Ukrainian people and government.
"The United States will continue to lead the worldwide coalition we have built in supporting Ukraine, particularly as U.S. assistance catalyzes further financial support from other countries and the international financial institutions (IFIs)," her statement said.
Biden's request includes $13.1 billion for military assistance to Ukraine and replenishing Pentagon-used weaponry for combat operations. An additional $8.5 billion will be provided for economic, humanitarian, and other assistance to Ukraine and other countries affected by the war. Furthermore, $2.3 billion will be allocated for leveraging additional aid from other donors through the World Bank.
The Pentagon previously conducted an assessment of the value of military equipment it sent to Ukraine. It was found that the equipment had been overestimated by about $3 billion. This mistake opens the possibility of sending more weaponry to Ukraine for defense against Russia.
Accounting error
This package is provided under the Presidential Drawdown Authority program, wherein the weaponry is transferred from the U.S. military's inventories.
Despite the relatively small volume of aid, the current tranche stands out primarily due to the source of funds released through an accounting error.
The error in calculating the cost of assistance under the PDA program is estimated at a total of $6.2 billion for the 2022 and partially for the 2023 fiscal years. The cause was that the evaluation of weaponry for Ukraine was based on replacement cost, rather than the actual value of the provided equipment and arms.
Notably, the U.S. fiscal year 2023 ends on September 30, and at this rate, announcing such packages several times a week for a transfer of the remaining balance by the end of the fiscal year seems necessary. However, it is evident that these funds will roll over to the next fiscal year.