We don't need grain war - Ukraine's foreign minister on conflict with Poland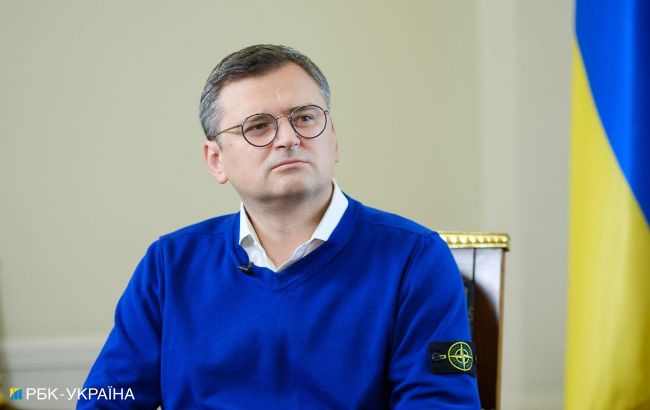 Minister of Foreign Affairs of Ukraine Dmytro Kuleba (Vitalii Nosach, RBC-Ukraine)
Neither Ukraine nor Poland needs a "grain war". The authorities are determined to resolve the situation with the export of Ukrainian agricultural products, according to the Minister of Foreign Affairs of Ukraine, Dmytro Kuleba, in an interview with Interfax-Ukraine.
"History, future and security simply leave us no other choice but to get out of this crisis. We did not create this crisis, and we are absolutely committed to ending it. Emotions are running high. Until October 15, before election day, temperatures in Poland may still rise. But we are constructive," Kuleba said.
He added that Ukraine is currently working with the European Commission, and has also conveyed clear signals to Poland about its readiness for a constructive resolution of the situation.
"We don't need this grain war, and neither does Poland," the minister said.
He emphasized that, using the example of relations with Bulgaria and Romania, Ukraine demonstrated that "there are no unsolvable problems."
"Let me remind you that at the beginning of the crisis in the spring of this year there were five countries that introduced restrictions. Now Bulgaria and Romania have found a solution, but the other three countries have not. The reason why they have not been found is obviously not because there are no solutions. There are some other reasons why these solutions have not been found," the foreign minister added.
He assured that the grain problem can be solved, "if there is a desire to solve it."
"We have such a desire," Kuleba said.
Grain import ban
On September 15, the European Commission lifted the ban on the import of Ukrainian agricultural products into five neighboring countries. However, Poland, Hungary, and Slovakia unilaterally imposed bans at the state level.
In response, Ukraine filed lawsuits with the World Trade Organization.
At the same time, both Ukraine and Poland expressed confidence that the countries could find a solution that would satisfy both sides.
Recently, Ukrainian Prime Minister Denys Shmyhal announced that Ukraine is introducing a new mechanism for grain export to neighboring countries.
Yesterday, September 27, Poland's Minister of Agriculture, Robert Telus, stated that Poland may transfer control of the export of Ukrainian grain to Germany and Lithuania.