Ukraine introduces new grain export mechanism for 5 EU neighbors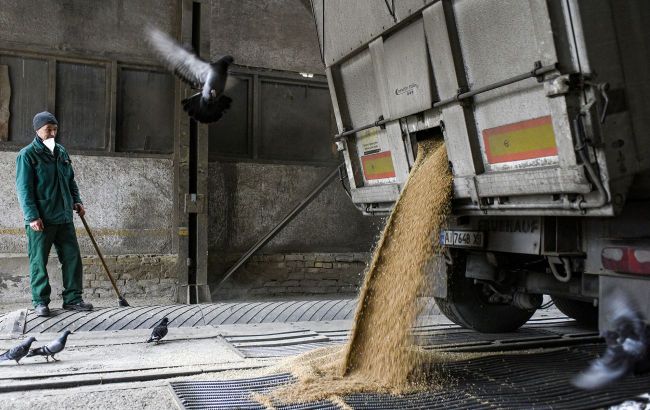 Ukraine introduces new grain export mechanism for 5 EU neighbors (Getty Images)
The Ukrainian government has adopted a resolution on a new mechanism for verifying and coordinating agricultural exports to Bulgaria, Romania, Hungary, Poland, and Slovakia, according to Ukrainian Prime Minister Denys Shmyhal.
He recalled that Ukraine had presented its plan to resolve the grain crisis, which was supported by the European Commission. It includes a mechanism for verifying and authorizing four types of agricultural products.
According to the Prime Minister, a coordination platform meeting on export and transit issues is scheduled for September 28, during which proposals will be finalized.
Shmyhal mentioned that four countries worked on Ukraine's plan, expressed their constructive comments and proposals, and are ready for discussion, while only one state is opposed. He added that there is neither a logical nor an economic explanation for this decision.
"Today, we are signing a resolution to implement the verification and coordination mechanism for 4 groups of Ukrainian agricultural exports to 5 neighboring countries. We are already preparing documents for signing with Romania and Bulgaria. These countries have not violated the trade rules of the European Union and the Association Agreement and have not imposed unilateral restrictions," he emphasized.
The head of the government added that Ukraine is grateful to all neighbors who are open to compromise. In turn, Ukraine is always ready for constructive dialogue.
Grain scandal
On September 15, the European Commission decided to lift the ban on importing Ukrainian grain, which applied to Poland, Slovakia, Bulgaria, Romania, and Hungary.
After that, Slovakia, Poland, and Hungary continued such measures unilaterally.
In response, Ukraine proposed its plan to resolve the conflict.
For more details on the grain scandal, you can refer to the article on RBC-Ukraine.