Ukraine to independently determine suitability of talks with Russia, Stoltenberg affirms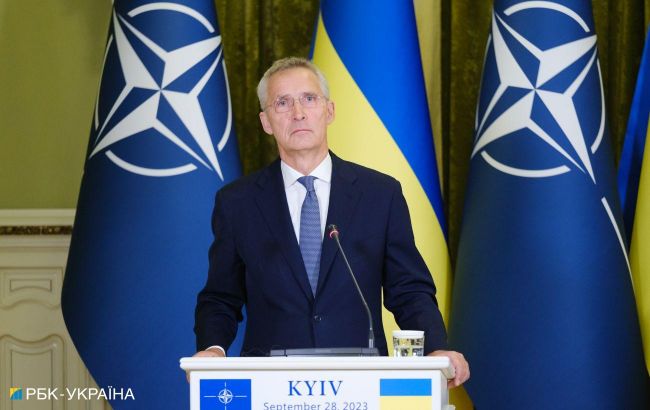 Jens Stoltenberg (Photo: Vitalii Nosach, RBC-Ukraine)
Ukraine will independently decide on the appropriateness of peace talks with Russia. NATO allies should support Ukraine in this decision, states NATO Secretary General Jens Stoltenberg.
In response to a journalist's question about the advisability of negotiations between Ukraine and Russia to end the war, Stoltenberg states that Ukraine should independently determine what conditions would be acceptable for negotiations.
"The responsibility of the NATO Allies is to support Ukraine to defend itself because this is also in our interest to show that we are standing up for the rule of law and international law and that we're helping Ukraine to fight back against a war of aggression. Wars are unpredictable, no one can say how and when this war ends. What we can say is that the likelihood for an acceptable negotiated outcome increases with the more military support we provide to Ukraine," said the NATO Secretary General.
Stoltenberg notes that currently, NATO countries do not see any willingness from Russian dictator Vladimir Putin to engage in negotiations. Therefore, the only way to persuade him to consider negotiations is by providing even more weaponry to Ukraine.
"So if you want a negotiated solution, the way to reach that, to get there, is to maintain support to Ukraine," he emphasized.
Ukraine-Russia negotiations
Ukraine and Russia conducted several rounds of talks at the beginning of the full-scale invasion but are currently on pause. Ukrainian authorities emphasize that Ukraine will not return to the negotiating table until Moscow withdraws its troops.
Recently, the American channel NBC News, citing American and European officials, claimed that the US and EU had begun discussing potential peace talks with Russia. According to reports, these discussions included considerations of what Ukraine might have to concede in exchange for peace.
However, on the same day, President Volodymyr Zelenskyy refuted the media reports, emphasizing that no one was pressuring Ukraine regarding negotiations.