U.S. 'can't allow Ukraine to lose' war due to lack of money - U.S. Treasury head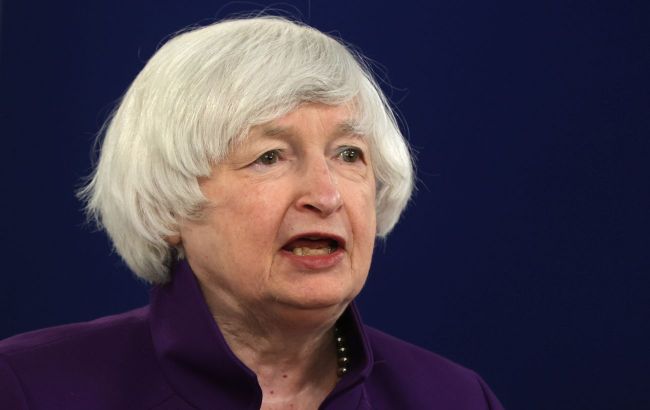 Photo: Secretary of the Treasury of the United States, Janet Yellen
The United States cannot allow Ukraine to lose the war against Russia due to a lack of funds, according to the U.S. Treasury Secretary Janet Yellen.
Yellen considers President Joe Biden's request for assistance to Ukraine and Israel critical to the national security of the United States.
The Treasury Secretary added that she cannot predict the schedule of the U.S. Congress voting on this bill but expressed approval of the fact that Congress passed a law allowing the government to remain open and operational.
"But it really is essential that this aid be provided both to Israel and to Ukraine. We can't allow Ukraine to lose a battle on the home front because it lacks enough money to keep schoolteachers in the classroom and first responders on the job when it's fighting valiantly on the battlefield. So, Ukraine is utterly dependent on this aid," said the minister.
She believes that the U.S. needs to join others, as their European partners have provided Ukraine with assistance of 50 billion euros over the next four years, and the IMF has provided over 15 billion.
Yellen emphasizes that if the U.S. allows Russian dictator Vladimir Putin to win in Ukraine, they might see Russia attack a NATO member afterward.
Regarding U.S. assistance
In October, President Joe Biden proposed allocating $106 billion to Congress. The majority of these funds ($61 billion) are intended for assistance to Ukraine. The package also included aid to Israel.
The President's initiative faced resistance in the U.S. House of Representatives, where the new speaker, Mike Johnson, wanted to consider aid to Ukraine and Israel separately. He created a separate package for Israel in the House, and it was supported. However, the Senate refused to consider such a budget.
Today, President Volodymyr Zelenskyy announced that the United States has allocated a new package of military aid to Ukraine.