Russians destroyed a century-old college in Kharkiv using drones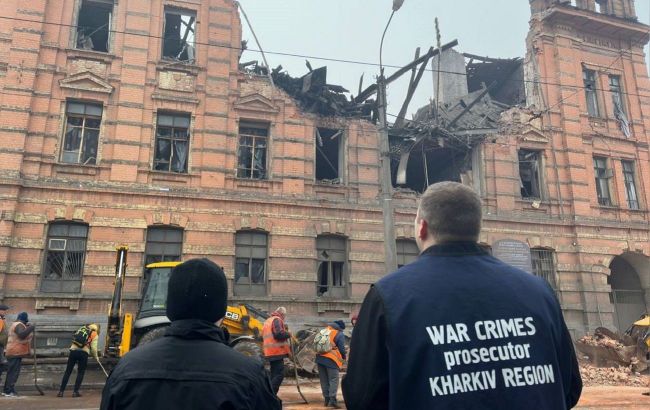 The destroyed building of a college in Kharkiv, which was hit by a Russian drone (Photo: t.me/prokuratura_kharkiv)
Shahed drone strikes severely damaged the College of Transport Technologies, a historic building constructed in 1915, Kharkiv Regional Prosecutor's Office and local media reported.
According to law enforcement, an educational institution in the Osnovianskyi district of Kharkiv suffered partial destruction. Three hostile drones were observed in the area, resulting in damage to garages, buildings, and vehicles.
Additionally, a hostile drone crashed in the Shevchenkivskyi district, causing damage to private residences, garages, and vehicles, according to the prosecutor's office.
The prosecutor's office released a photo of the century-old College of Transport Technologies building that was destroyed. It is important to mention that this is a currently operating educational institution.
After the Russian attack, the College of Transport Technologies in Kharkiv now looks like this (photo: t.me/prokuratura_kharkiv)
The Russian attack caused extensive damage to the building, destroying the 2nd and 3rd floors, and the roof, and causing significant damage to the structure, including burnt structural elements and shattered windows.
The building was constructed in 1915 and has been used for education since 1953. It's noteworthy that KhTZT College was previously called the Kharkiv Technical School of Railway Transport.
This is how the college building used to look like (photo from open sources)
Utility crews are currently operating at the location where the Russian occupiers launched their attack. Measures are being taken to remove the debris and rubble from the area.
Russian troops destroyed other educational institutions in Kharkiv
Over half of the city's schools and 22 out of 24 higher education institutions have been damaged due to Russian shelling since the beginning of the full-scale invasion.
Kharkiv National University named after V.M. Karazin, N. E. Zhukovskiy State Aerospace University "Kharkiv Aviation Institute", State Biotechnological University, and National Technical University "Kharkiv Polytechnic Institute" sustained the greatest damage.
It's worth noting that before this, the Russian invaders had already ravaged the O.M. Beketov National University of Urban Economy.
The shelling of Kharkiv on the night of November 3
On Friday night, Russian forces launched an air strike on Kharkiv using Shahed drones. According to the regional prosecutor's office, the strikes hit the districts of Osnovyansky and Shevchenkovsky. Later, it was discovered that Russian troops deployed approximately 10 kamikaze drones in the attack.
The following morning, the regional prosecutor's office announced that 8 people were injured as a result of the Russian strike, all of whom suffered an acute stress reaction. Among the injured are a 10-year-old boy and a 2.5-year-old girl.
Repelling the air attack
According to the Ukrainian Air Force Command, on the night of November 3, the Russian aggressors attacked Ukraine with forty Shahed-136/131s, launching an X-59 missile from the occupied section of the Kherson region.
Ukrainian air defense successfully eliminated twenty-four Shahed-136/131 attack UAVs and one enemy-guided missile.