Drone attack on Kharkiv: Kids among victims, fire breaks out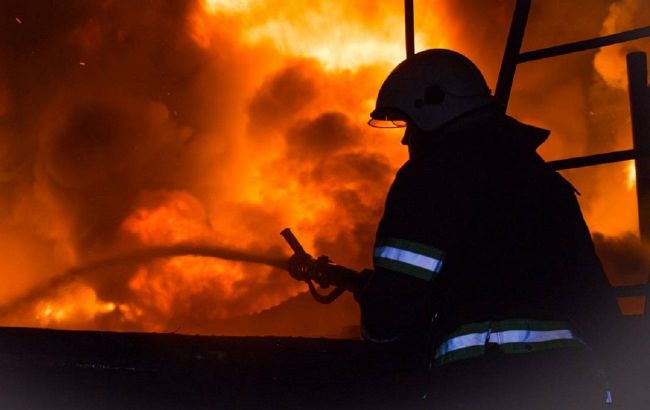 A fire in Kharkiv caused by Russian Shahed attack (t.me/dsns_telegram)
As a result of a Russian drone attack on the Kharkiv region last night, serious fires have broken out, with the largest occurring in Kharkiv itself. Among the victims are children, according to the head of the Kharkiv Regional Military Administration, Oleh Syniehubov, and the State Emergency Service of Ukraine (SES).
The official clarified that Russian occupiers struck Kharkiv around 00:45 with four kamikaze drones of the Shahed type. As a result of the hostile attack:
2 garages, 4 passenger cars, and an outbuilding were damaged.
An auto repair shop, a non-operational sewing workshop, and a residential building were partially destroyed.
A school was partially ruined.
"Fires have occurred, and 8 Kharkiv residents sought medical attention with acute stress reactions, including 2 children. They received on-site assistance, no injuries have been reported," said Syniehubov.
According to the State Emergency Service of Ukraine, the massive enemy drone attack on Kharkiv and the region resulted in 5 fires, with the most extensive fire occurring in one of Kharkiv's districts, with the following structures being engulfed in flames:
An administrative building
An operating sewing workshop
An auto repair shop
Garages
8 automobiles
A residential building covering an area of over 1000 square meters.
"There was a threat of the flames spreading to other buildings. The fire has been contained, and the extinguishing operation is ongoing," the SES reported.
Rescue teams also shared a video of firefighting efforts in Kharkiv as a result of the overnight attack.
Attack Kharkiv on the night of November 3
Overnight on November 3, Russian invaders launched an aerial strike on Kharkiv using Shahed drones. The regional prosecutor's office reported that the drones hit the Osnovyanskyi and Shevchenkivskyi districts of the city. Later, it was revealed that Russian forces targeted Kharkiv with about 10 kamikaze drones.
As reported by the command of the Air Force of the Armed Forces of Ukraine, during the night of November 3, Russian occupiers attacked Ukraine with 40 Shahed-136/131 drones and launched an aviation missile X-59 from the occupied part of the Kherson region. The Ukrainian Air Defense Forces destroyed 24 Shahed-136/131 attack UAVs and one guided aviation missile.