Important day: Ukraine awaits decision from EU regarding negotiations to begin today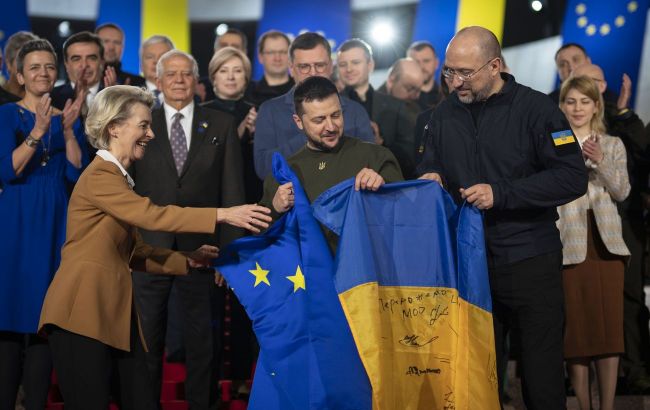 Ukraine is awaiting a decision from the EU today on the start of negotiations (Photo: Getty Images)
On November 8, the European Commission will release its highly anticipated annual enlargement report, which includes an assessment of Ukraine's compliance with seven requirements and a determination on whether to suggest negotiations toward the country's accession to the EU.
The RBC-Ukraine article below explores the significance of the European Commission's decision, offers insight into what to anticipate, and examines Ukraine's path to EU membership.

The following sources were used in the preparation of this material: statements from President of Ukraine Volodymyr Zelenskyy, President of the European Commission Ursula von der Leyen, President of the European Council Charles Michel, Prime Minister of Ukraine Denys Shmyhal, EU High Representative Josep Borrell, Foreign Minister Dmytro Kuleba, Radio Liberty, and Bloomberg.
The European Commission's report. What is it and why is it needed?
The European Commission regularly issues a report to evaluate the progress of countries seeking to implement reforms necessary for EU membership. This report, known as the Enlargement Package, is released annually and includes the Communication on Enlargement.
Along with assessing the candidate countries' progress toward EU membership, this document highlights areas where reforms still need to be implemented and proposes guidelines for future advancements. This year marks Ukraine's first inclusion in this package.
As such, the document's release today is expected to provide a thorough assessment of the country's implementation of the seven recommendations given to Kyiv alongside its EU candidate status decision.
The report's original release date was scheduled for early October but was frequently postponed for various reasons. Finally, today the European Commission will release its assessment.
It should be noted that this document applies not only to Ukraine but also to other countries seeking EU membership, including Albania, Bosnia and Herzegovina, Kosovo, Montenegro, North Macedonia, Serbia, Turkey, Georgia, and Moldova.
The latter has been given nine requirements to commence membership negotiations, which include combatting organized crime. It may receive a conditionally positive recommendation, along with Ukraine. However, Georgia's prospects are not as favorable. EU officials hold that the country has not met the 12 necessary conditions for candidacy.
However, according to Radio Liberty's Brussels correspondent Rickard Jozwiak, Georgia will become a candidate for EU membership tomorrow with certain conditions.
Seven EU requirements have been met
Once all seven requirements are met, negotiations for Ukraine's accession to the European Union should commence. Candidate status was granted to our country by the European Council in June 2022, which included the expectation for Kyiv to implement seven sets of reforms, such as:
Reforming the Constitutional Court, further;
implementing judicial reform, combating corruption;
reinforcing anti-corruption agencies;
fight against money laundering;
weakening the influence of the wealthy;
elites, harmonizing audiovisual legislation with that of Europe;
and amending legislation regarding national minorities.
In June of this year, the EU conducted its initial oral assessment of Ukraine as a potential candidate nation. During this evaluation, they acknowledged that our country had fulfilled two out of the seven steps outlined by the European Commission. However, before that statement, Prime Minister Denys Shmyhal asserted that all seven recommendations had been executed at the government level.
According to an internal document from the European Commission obtained by Radio Liberty, Ukraine has satisfied 4 out of 7 criteria.
Implementing legislation for selecting judges of the Constitutional Court;
completing integrity checks for candidates of the High Council of Justice, and establishing the High Qualification Commission of Judges;
Compliance with FATF standards for anti-money laundering legislation and approval of a strategic plan to reform the entire law enforcement sector are the key priorities;
The media sector also requires reform, aligning Ukrainian legislation with the EU Audiovisual Media Services Directive.

The remaining three priorities - tackling corruption, limiting the influence of oligarchs, and legislation on national minorities - come with recommendations for further implementation.
Bloomberg reports that sources say the European Commission may suggest EU member countries initiate formal negotiations for Ukraine's accession once all seven criteria are met.
The newspaper states that to start official negotiations, reforms must be adopted to change legislation regarding national minorities, anti-corruption measures, and de-oligarchization and lobbying.
Ukraine's expectations from the report
"The report to be published tomorrow will describe Ukraine's progress and provide an understanding for further steps. But the wording will be restrained," said Stefanishyna.
She added that the European Union will make the ultimate determination on whether to commence negotiations in December, and tomorrow's report will serve merely as a foundation.
At the same time, Minister of Foreign Affairs, Dmytro Kuleba, traveled to Brussels for talks. He suggested that the European Commission may make positive decisions.
He stated that the accession talks are set to begin in December, barring any unforeseen circumstances. Kuleba also addressed rumors that our country has only implemented four of the European Commission's seven recommendations. He clarified that Brussels does not assess progress in terms of one or two recommendations met, but rather evaluates the overall implementation.
Interestingly, during the speech in the Ukrainian Parliament of Ukraine, Ursula von der Leyen, the President of the European Commission, objectively stated that Kyiv has achieved 90% completion of its tasks.
Not the final result and a "spoke in the wheel"
Receiving the EC's recommendation today does not signify the conclusion of the accession negotiations. The European Council's decision to initiate negotiations will be necessary and is anticipated to occur in December of this year.
Meanwhile, certain European politicians have made declarations that indicate Ukraine's potential disqualification from joining the EU. Balázs Orban, the Political Director of Hungarian Prime Minister Viktor Orban, has threatened to veto the upcoming
December EU summit if the EC's recommendations are not ratified by European government leaders. The reason for this threat is Ukraine's newly enacted language law which requires minorities, including Hungarians, to receive a minimum of 70% Ukrainian education. Orban believes that due to this law, children in Ukraine who grow up speaking Hungarian at home will experience academic setbacks.
When can Ukraine join the EU: forecasts
Recently, Olha Stefanishyna, Deputy Prime Minister for European and Euro-Atlantic Integration of Ukraine, shared an ambitious plan for Ukraine to join the EU. Previously, she noted that Kyiv would not meet all the recommendations this year, but insisted that accession negotiations should commence in December.
She is optimistic that Ukraine will become a member of the bloc within two years. The Ukrainian government shares the desire for membership in the EU, as affirmed by President Volodymyr Zelenskyy.
Yet, some EU officials have reservations. The President of the European Commission, Ursula von der Leyen, has stated that there are no clear deadlines for Ukraine's membership.
Additionally, European Council President Charles Michel recommends that EU member states and the Western Balkans prepare for the bloc's expansion by 2030.
Meanwhile, the EU clarified that the deadline stated by Michel was merely a recommendation. High Representative of the Union for Foreign Affairs and Security Policy, Josep Borrell, stated that Ukraine has advanced in the line for EU membership, which will expedite the process.