Germany announces new aid package for Ukraine: IRIS-T missiles, ammunition, and more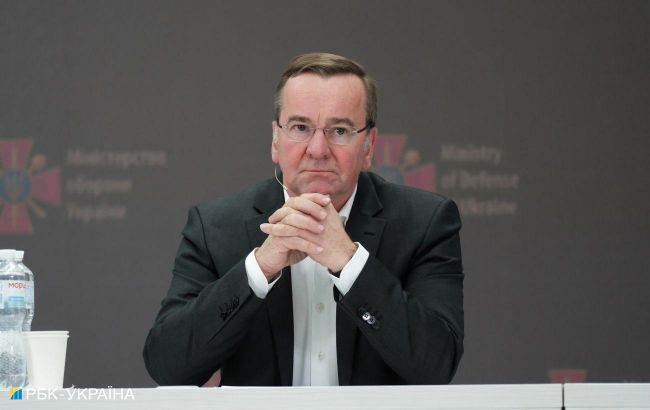 Photo: German Defense Minister Boris Pistorius (Vitalii Nosach, RBC-Ukraine)
German Defense Minister Boris Pistorius announced a new aid package to Ukraine during his visit to Kyiv on November 21.
According to Pistorius, the new package of military aid will include 4 IRIS-T systems, 20,000 155-mm projectiles, anti-tank mines, and other weapons.
"This is the fifth such package since last winter. And I am sure that it will help you in your fight against Russian aggression," Pistorius says.
When asked about the possibility of supplying Taurus missiles, Pistorius said that "there is no new information about Taurus." However, he said that next year Germany plans to supply Ukraine with 140,000 155-mm shells.
Pistorius's visit to Kyiv and the supply of Taurus missiles to Ukraine
German Defense Minister Boris Pistorius arrived in Ukraine on an unannounced visit on November 21. This is the second visit of Pistorius to Kyiv since taking the post of Minister of Defense. The last time Pistorius was in Kyiv was in February 2023.
It will be recalled that Ukraine has been appealing to Germany for several months regarding the transfer of Taurus cruise missiles. They can hit up to 500 km. At the beginning of November, it was reported that Germany had not yet decided on the issue of supplying Ukraine with long-range Taurus missiles. Another reason for the refusal was the fact that Germany was allegedly afraid of a confrontation with Russia.
German aid
Germany is one of the leaders among the countries that assist our troops. In particular, Berlin provided several types of artillery, Leopard tanks of older and new modifications, IRIS-T and Patriot air defense systems, ammunition, cars, drones, and other types of weapons.
In the August 17 aid package, Germany handed Ukraine two launchers of the IRIS-T short-range anti-aircraft missile complex. And recently it became known that Ukraine will receive Wisent 1 demining tanks and 20 Marder infantry fighting vehicles from Berlin.
The German government also announced that it would provide Ukraine with 200 million euros. The money will be used to restore Ukraine.