Demining tanks and Marder infantry vehicles - Germany's new military package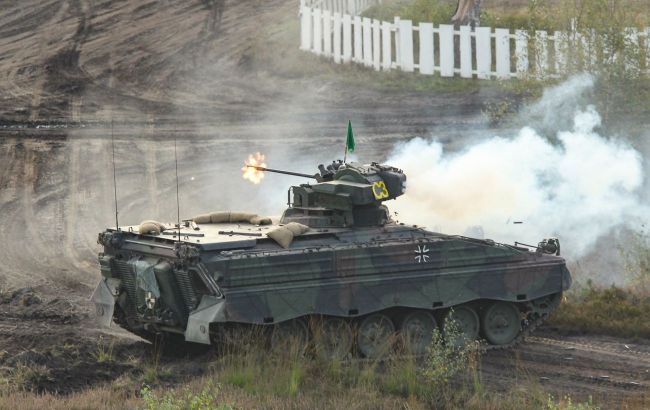 Germany has handed over 20 Marder infantry fighting vehicles to Ukraine (Photo: Getty Images)
Ukraine has received a new package of military aid from Germany. This package includes Wisent 1 mine clearance tanks and 20 Marder infantry fighting vehicles, according to the German government.
Within the framework of this new aid package, Germany has provided Ukraine with not only armored vehicles but also ammunition, rounds, and additional military transport.
Germany has delivered:
20 Marder 1A3 infantry fighting vehicles with ammunition (previously provided 40).
Two armored engineer mine clearance vehicles Wisent 1 (previously provided 6).
An 8x8 HX81 semi-truck (previously 50) and four semi-trailers (previously 41).
Five 8x8 recovery vehicles (previously 35).
Nine vehicles (trucks/minibusses/all-terrain) (previously 288).
Three Mercedes-Benz Unimog ambulance vehicles (previously 44).
An additional 3,000 rounds of 155mm caliber ammunition (previously 15,510).
Material for ordnance disposal.
One satellite communication observation system.
20 RQ-35 Heidrun reconnaissance drones (previously 60).
Two mobile antenna-mast systems (previously 47).
Ten drone detection systems (previously 103).
1.5 million rounds of small arms ammunition (previously 44.2 million).
The German government noted that Ukraine had received military aid worth 5.4 billion euros from Berlin this year.
The Wisent 1 is an armored engineering tank designed for mine clearance. It is based on a modified Leopard 1 battle tank chassis with the turret removed. The main task of the Wisent (which means "bison" in English) is to create pathways in minefields to allow infantry to advance.
Furthermore, the German government had previously tasked the company Rheinmetall with providing Ukraine with an additional 40 Marder infantry fighting vehicles.
German assistance
Germany is one of the leading countries assisting Ukraine's armed forces. Berlin has supplied various types of artillery, Leopard tanks of older and newer modifications, IRIS-T and Patriot air defense systems, ammunition, vehicles, drones, and other types of weaponry.
In the aid package sent on August 17, Germany gave Ukraine two launchers for the short-range IRIS-T air defense missile system.