Fuel reservoir set ablaze near Sochi airport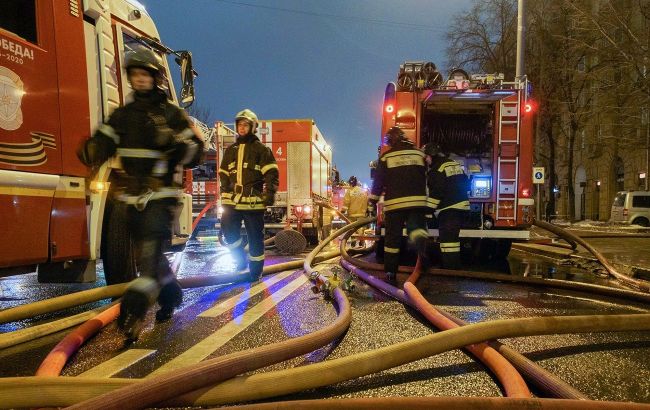 Photo: Fire occurred in Sochi (Getty Images)
In the city of Sochi (Russia), early in the morning on September 20, a massive fire broke out near the airport - a reservoir with diesel fuel ignited. Local residents reported hearing an explosion, according to the local media and the governor of the Krasnodar Krai, Veniamin Kondratyev.
The fire incident happened, according to preliminary information, at the Rosneft gas station located in the Adler district on Aviatsionnaya Street.
There are speculations online that the explosion heard by the residents of Sochi could have been caused by the burning of diesel fuel.
Local authorities have stated that the area of the fire covered 96 square meters. Dozens of firefighters and a lot of equipment are working at the scene.
"In the Adler district of Sochi, a reservoir with diesel fuel caught fire early in the morning... According to preliminary data, there are no casualties. Over 60 people and 15 units of equipment are working at the scene," the governor said.
The Russian official also added that there is no threat of the fire spreading.
What caused the fire incident in Sochi is currently unclear, and the "causes are being investigated."
Explosions and fires in Russia
In recent months, various fires and explosions have occurred in different regions of Russia, and local authorities have also frequently reported alleged "drone attacks."
For example, on September 17, there was an explosion in Oryol, followed by a fire at an oil depot. Prior to that, local residents reported hearing the sound of a drone.
It was also recently reported that a drone attacked the Redkinskiy Research Plant in the Tver region of Russia, resulting in an explosion. The company is involved in the production of unique products for the aviation and space industry.
On September 15, a severe fire occurred at the Samara Bearing Plant in Russia. Additionally, on September 12, there was a fire on the territory of a lubricant material plant in southern Bashkiria, near fuel tanks.