Drone attack and explosion with fire at an oil depot in Oryol region, RF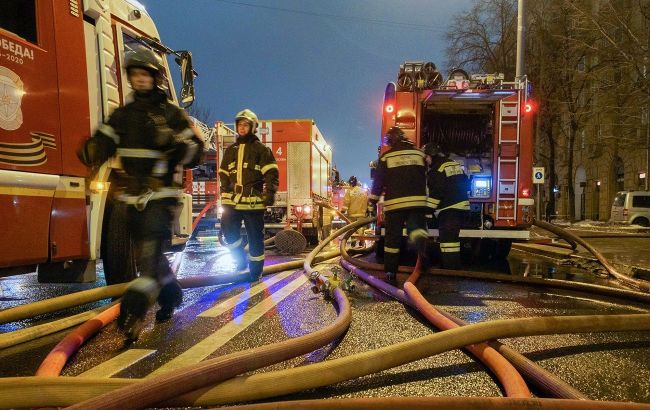 Photo: An explosion and fire occurred in the Russian Oryol region (Getty Images)
In the Oryol region (Russia), an explosion occurred on the night of Sunday, September 17, followed by a fire at an oil depot. Local residents had previously heard the sound of a drone flying, according to local sources and Russian Telegram channels.
The fire took place on the territory of the Oryol oil depot, where, according to preliminary information, fuel tanks ignited.
As residents of Oryol reported, they heard a sound characteristic of a drone flight before the explosion.
Later, representatives of the Ministry of Emergency Situations announced that the fuel tank in Oryol had already been extinguished.
Preliminary reports indicate that the incident involved a tank at the Orelnefteprodukt company on Seminarskaya Street in the city.
The governor of the Oryol region of Russia, Andrey Klichkov, later commented on the situation. He stated that around 3:50 local time, an unmanned aerial vehicle had crashed on the territory of the city of Oryol.
"It fell on an uninhabited object in the Zheleznodorozhny district. The scene is surrounded, special services are taking necessary measures, and the situation is under full control," the official wrote in his Telegram.
He also added that, according to preliminary information, there were no casualties.
Explosions and drone attacks in Russia
In recent months, explosions and alleged drone attacks have been reported almost daily in various regions of Russia, with local authorities and officials reporting various drone incursions.
For example, on this night, there were two reports of purported UAV attacks on Moscow, and the operation of air defense systems in the Moscow region, where one of the drones was allegedly shot down in the Domodedovo area.
Earlier on September 16th, the Russian Ministry of Defense announced nighttime drone raids and the operation of air defense systems in the Tver and Kaluga regions, where two drones were supposedly downed.
A day before that, a drone attacked the Redkinskiy Research Plant in the Tver region of Russia, leading to an explosion. The facility specializes in the production of unique products for aviation and the space industry.