Explosions in Crimea: Target of the morning attack and consequences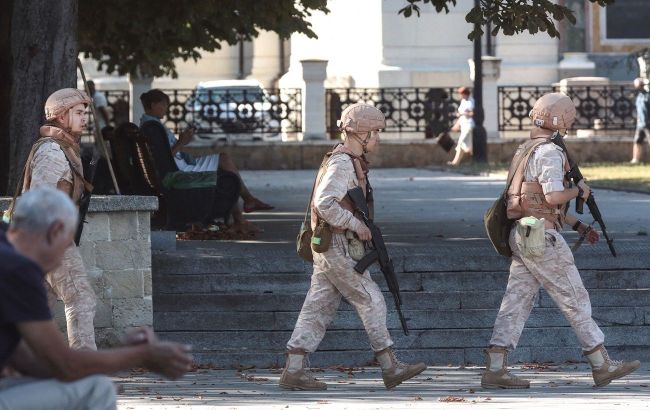 Photo: In occupied Crimea, an anti-aircraft missile regiment of the Russian Federation was attacked (Getty Images)
In temporarily occupied Crimea, a Russian anti-aircraft missile regiment was attacked near the settlement of Olenivka in the western part of the peninsula, reports Astra.
According to the sources, around 3:00 AM, a rocket attack was carried out on the base of Russian occupiers, targeting the location of the Russian Ministry of Defense's anti-aircraft missile regiment. It is claimed that 17 Russian military personnel were injured, and five vehicles were damaged, with one of the vehicles destroyed.
Reaction from the Ukrainian Navy
Dmytro Pletenchuk, the spokesperson for the Ukrainian Navy, did not confirm but did not refute the reports of the attack on the Russian anti-aircraft missile regiment base in occupied Crimea that night during a national telethon. He urged waiting for official announcements on this matter.
"We should wait for official announcements on this matter. As for the so-called Crimean Bridge, Russia closes it in the face of any perceived threat. There is nothing new here," he said.
Pletenchuk also added that regarding military use, "we should still wait for official announcements on this topic."
Background
Earlier on the morning of Monday, October 30, in Crimea, reports began to circulate in Telegram channels and public groups about loud explosions in the area of the occupied Sevastopol, as well as the closure of the bay due to explosions.
Later, it became known that the Crimean Bridge was also closed.
It was also reported that the occupation governor of Sevastopol, Mikhail Razvozhaev, explained the smoke in the bay as purported tactical camouflage used by Russian occupiers. He also claimed that the Russian Black Sea Fleet had fired at what he alleged were Ukrainian UAVs during the night.
Explosions near Olenivka in Crimea
The occupants' base near the settlement of Olenivka has come under attack before. The Main Intelligence Directorate of the Ministry of Defense of Ukraine reported the destruction of a Russian S-400 Triumph anti-aircraft missile system and other enemy military equipment there in August. On August 23, in addition to the Triumph, the Russian coastal missile system Bastion was also damaged. This system is one of the carriers of the Onyx missiles used by the Russians to target Ukrainian territory.