Explosions in Crimea on August 23 - Russian Bastion anti-ship missile system hit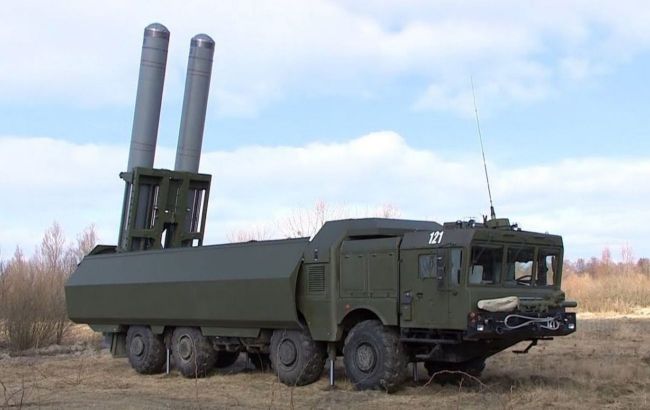 In Crimea Russian mobile coastal defence missile system was destroyed (Photo:rosmedia)
During today's explosions in temporarily occupied Crimea, the Russian coastal missile complex Bastion was reportedly hit, according to Petro Andriushchenko, an advisor to the Mayor of Mariupol.
"Remarkable. The coastal anti-ship missile complex Bastion has been hit in Crimea," Andriushchenko wrote.
This complex is among the platforms that carry the Onyx missiles, which Russia uses to target Ukrainian territory.
Additionally, radar stations have been damaged. In total, seven explosions were recorded.
Russian coastal missile system Bastion was damaged in Crimea (photo: t.me/andriyshTime)
About the Bastion complex
"Bastion-P" is a coastal defense missile system developed by Russia in collaboration with the Belarusian enterprise "Technosoyuzproject."
On March 15, 2015, it was revealed that the system had been deployed to Russian-occupied Crimea.
In mid-March 2022, the Russian Ministry of Defense released information about using this complex against ground targets in southern regions of Ukraine. Subsequently, videos of three missile launches emerged. The footage showed the complex positioned on the Tarkhankut Peninsula in Russian-occupied Crimea.
The extended firing range and high speed of the anti-ship missile Onyx, launched by the Bastion complex, make maritime strikes unexpected. The system can be situated at a considerable distance from the shore.
The complex is quite mobile, thus boasting high maneuverability and concealed weapon deployment. The missile's flexible flight trajectory enables it to evade anti-aircraft systems. Consequently, the Bastion coastal missile system can approach targets from unexpected directions.
Explosions in Crimea
On Wednesday, August 23, explosions were heard in the western part of temporarily occupied Crimea. Local sources are sharing photos, likely taken from the village of Olenivka on the west region of the peninsula.
The Telegram channel "Crimean Wind" reports that the explosions impacted the radar stations in Tarkhankut. In total, seven outbreaks were reported.