EU may greenlight Ukraine's membership talks this week - Reuters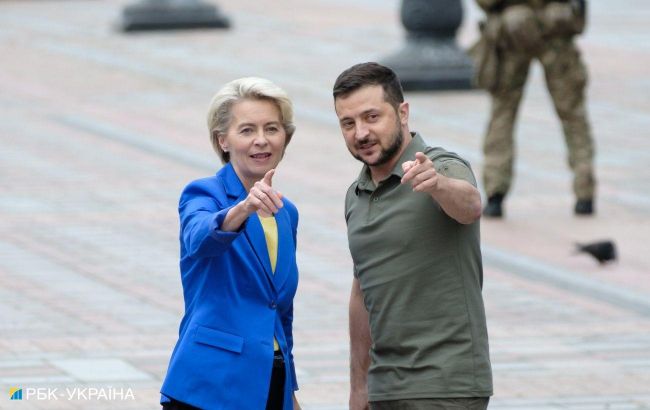 Ursula von der Leyen and Volodymyr Zelenskyy (Vitalii Nosach, RBC-Ukraine)
The head of the European Commission, Ursula von der Leyen, will publish a report in Brussels this Wednesday, November 8, assessing Ukraine's progress on the path to EU membership with positive recommendations. However, certain conditions apply, according to Reuters.
Ukraine, among other things, must do more to tackle graft and secure minority rights.
"The report and recommendation will inform a key decision in December by a summit of the EU's national leaders on whether to start formal membership negotiations with Kyiv," the media states.
The head of the European Commission praised Ukraine for its progress
On her visit to Kyiv on November 4, von der Leyen praised Ukraine for its progress and added that Ukraine is "fighting an existential war and at the same time deeply reforming" at a press conference with Ukrainian President Volodymyr Zelenskyy.
She highlighted reforms in the Ukrainian justice system, reining in oligarchs and tackling money laundering.
Von der Leyen also expressed confidence that Ukraine would soon complete the remaining steps - related to fighting corruption and safeguarding minority rights - and advance on its EU path.
Zelenskyy, in turn, stated that Ukraine would fulfill the conditions, and a positive EU decision would give fresh motivation to his society and troops. He said Ukraine eventually joining the EU would strengthen both.
On November 4, Zelenskyy announced new reforms regarding Ukraine's accession to the European Union.
Ukraine's accession to the EU
Last year, Ukraine gained candidate status for EU accession. Kyiv must fulfill a set of conditions to become a full member of the bloc.
At the end of September, Prime Minister Denys Shmyhal announced that Ukraine was completing the implementation of all the European Commission recommendations at the government level.
Previously, Politico reported that the European Commission would publish a report on November 8 with a recommendation to start a dialogue on Ukraine and Moldova's accession to the EU.
For more details on Ukraine's EU accession, refer to the article on RBC-Ukraine.