Ukraine achieves excellent progress on path to EU, Von der Leyen states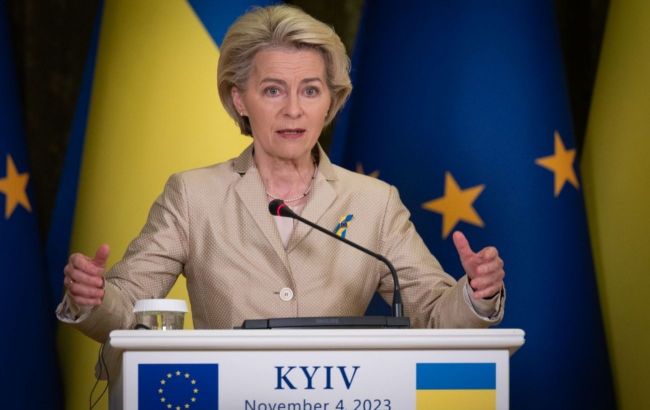 Ursula von der Leyen and Volodymyr Zelenskyy (Photo: president.gov.ua)
Ukraine has achieved excellent progress on the path to EU membership, according to Ursula von der Leyen, President of the European Commission, at a briefing with President Volodymyr Zelenskyy.
"I must say that you have made excellent progress. We will testify to this next week when the Commission will present its report on enlargement," she stated.
Von der Leyen noted that the EU is impressed with the reforms Ukraine is implementing amidst the ongoing conflict.
"We should never forget that you are fighting in the existential war, and at the same time, you are deeply reforming your country. You have reached many milestones, reforming the justice system, curbing the oligarchs' grip, and tackling money laundering," she added.
The President of the European Commission states that Ukraine is in the process of finalizing significant reforms.
We will continue to support and promote a just and lasting peace for Ukraine.

Our support is unshakable. https://t.co/UFLeaqCToR

— Ursula von der Leyen (@vonderleyen) November 4, 2023
"If this happens, I am confident Ukraine can reach its ambitious goal of moving to the next stage of the accession process," von der Leyen stated.
Ukraine's EU accession
Last year, Ukraine obtained the status of a candidate for EU accession. Currently, Kyiv must fulfill a series of conditions to become a full member of the bloc.
At the end of September, Prime Minister Denys Shmyhal announced that Ukraine was completing the implementation of all European Commission recommendations at the government level.
President Volodymyr Zelenskyy has mentioned that Ukraine may commence negotiations for EU accession as early as this year.
More on the forecasts for when Ukraine's accession negotiations may begin and potential hindrances can be found in RBC-Ukraine's article.