Two or seven years? What could hinder Ukraine from initiating EU accession talks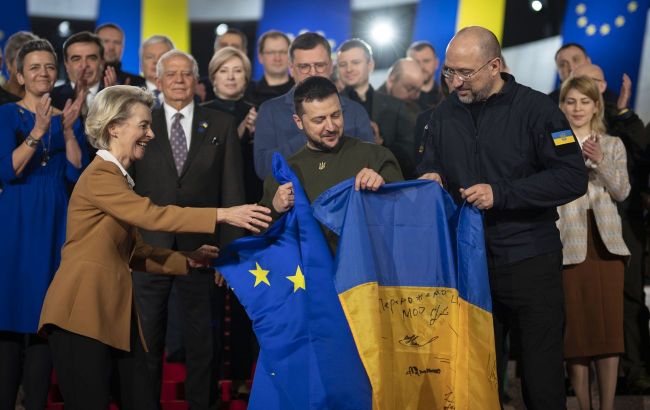 Photo: Is Ukraine ready to start negotiations on accession to the EU (GettyImages)
Ukraine is awaiting the start of negotiations on EU accession. Has Kyiv complied with all the recommendations of the European Commission, and will internal EU reforms hinder the process, read below in the material by RBC-Ukraine.
To prepare this material, statements by Ukrainian officials, and European diplomats, as well as comments from First Deputy Director of the New Europe Center, Serhiy Solodky, and Deputy Prime Minister for European and Euro-Atlantic Integration of Ukraine, Olha Stefanishyna, were used, as well as publications by Politico and Der Spiegel.
A meeting of the EU Council of Foreign Ministers took place in Kyiv in early October. For the first time in history, such a meeting was held not in the European Union, which, as the Minister of Foreign Affairs, Dmytro Kuleba, stated, was a significant signal for Ukraine's future in the EU.
This historic meeting occurred while Ukraine awaited the European Commission's report on progress in meeting the requirements for starting negotiations on EU accession. As stated in Kyiv, Ukraine has done the "homework" at a rate of 99.9%, so it is hopeful for the start of negotiations later this year.
"We expect that in October, Ukraine will receive a positive assessment within the report on the EU enlargement package. Then, there will be a vote in the European Council, which will pave the way for negotiations on our country's accession to the EU," said Prime Minister Denys Shmyhal at the end of September.
Did Ukraine fulfill the EU recommendations?
Analysts at the New Europe Center noted significant progress in Ukraine's compliance with the European Commission's recommendations for EU accession. In a report dated September 27, analysts assessed the level of compliance with the recommendations at 8.1 out of 10. In the previous report from May 4, the rating was 6.8.
Since then, the Ukrainian government has fully complied with requirements related to media legislation, moved closer to full compliance with requirements regarding national minorities and judicial reform, made significant progress in the reboot of the Constitutional Court, and improved the fight against corruption, particularly through the revival of electronic declaration.
However, the fight against oligarchs, as recommended by the Venice Commission, has been put on hold and will not be considered as a requirement for the start of negotiations.
The only remaining problematic issue, as noted by the First Deputy Director of the New Europe Center, Serhiy Solodky, is the implementation of legislation to combat money laundering, specifically the law regarding politically exposed persons. The law requires lifelong financial monitoring of political figures, even after they leave politics. In September, the document only passed the first reading, and there has been no progress in further adoption by parliament.
"I understand that there are currently discussions regarding the issue of PEPs because there is no clear understanding of what decision the Verkhovna Rada (Ukraine's Parliament - Ed.) will make and how it will satisfy FATF, the International Monetary Fund, and the European Union," Solodky stated.
Verkhovna Rada has one recommendation left to implement from the European Commission (Photo: Vitalii Nosach, RBC-Ukraine)
If the law on PEPs is not passed or if it is adopted with certain amendments that diverge from the requirements of European partners, it could lead to unforeseen consequences, according to Solodky. This could even result in a negative EU decision regarding the start of negotiations with Ukraine.
President Volodymyr Zelenskyy has emphasized the urgency of passing the law on PEPs multiple times, calling on members of parliament to fulfill this important EU recommendation. Furthermore, the law on PEPs is one of the milestones set by the IMF for the review of its cooperation program with Ukraine.
"Ukraine has almost fulfilled the seven recommendations of the European Commission. Everything is ready on our side. Verkhovna Rada has one step left. It's important that lawmakers take this step," President Zelenskyy stated in one of his addresses.
Time is running short before the release of the European Commission's report on Ukrainian progress, which is planned for October. However, as European Union High Representative Josep Borrell stated during a press conference in Kyiv last week, the EU is working on the report, but it has not been finalized yet.
"Believe me, this will be an objective assessment of Ukraine's progress. There is a strong incentive and strong political will from the EU. I understand that you want to know a specific date, but no one will tell you," he noted.
Ukraine hopes for a positive assessment from the European Commission and a recommendation to start negotiations in 2023. Zelenskyy has expressed such expectations multiple times. A positive signal came from the publication of an article in Politico in which unnamed European diplomats indicated that the European Commission would give the green light for negotiations with Ukraine and would do so by the end of this year.
The possibility of negotiations on membership starting this year is not ruled out, according to Solodky. He states that both analysts and Ukrainian officials are leaning toward this optimistic scenario.
"Everything indicates that the chances of a positive decision to start accession negotiations are quite high and optimistic. In Ukraine, both the expert community and government officials remain optimistic because Ukraine has managed to fulfill a significant part of the recommendations," he noted.
Deputy Prime Minister for European and Euro-Atlantic Integration of Ukraine, Olha Stefanishyna, commented to RBC-Ukraine, that Ukraine had already provided a solid foundation for a positive assessment by the European Commission. Once the report is published, Kyiv will start working with European capitals to obtain a decision regarding the start of accession negotiations.
"I can confidently say right now that Ukraine's achievements in the field of reforms do not raise doubts among our partners," she added.
Stefanishyna is waiting for a positive decision from the EU regarding negotiations (Photo: Vitalii Nosach, RBC-Ukraine)
However, it should not be forgotten that such decisions in the EU are made by consensus, so any EU member state can block the start of negotiations. For example, Bulgaria has been obstructing negotiations with North Macedonia, a candidate country since 2005.
It is also possible that Hungary, which has close ties with Russia and its own interests, especially concerning national minorities, could veto the start of negotiations. Poland, despite its alliance in the war, might use this process to address the recent grain issue, which has strained relations between Kyiv and Warsaw.
Therefore, according to Stefanishyna, Ukraine's primary task at the moment is to build consensus within the European Union. Kyiv is actively engaging with each EU capital for this purpose.
"At this stage, I can confidently say that every EU member state understands that no decision regarding the start of accession negotiations with other candidate countries can be made without a corresponding decision regarding Ukraine," she added.
Membership in 2030?
The start of negotiations is just the first step toward EU membership. Ukraine will face lengthy negotiations and its legislation will need to be brought into line with European standards, followed by the ratification of membership by all EU member states.
The path from the beginning of negotiations to ratification can take years or even decades. For example, Poland's accession to the EU took 10 years; it joined the bloc simultaneously with 9 other Eastern European countries. On the other hand, Finland took only three years to go from application to EU membership.
Ukraine can wait for years to join the EU but wants to do it within two years (Photo: Getty Images)
At the same time, Ukrainian authorities have set an ambitious goal for themselves: to be ready for EU membership within two years after the start of negotiations. These timelines have been publicly mentioned by the president and the prime minister. Additionally, Prime Minister Denys Shmyhal emphasized in an interview with Politico that Kyiv would not tolerate unnecessary delays from Brussels.
"We have a clear understanding that Ukraine can be fully ready to join the EU within two years from the start of the negotiation process," confirmed Stefanishyna.
However, the optimism regarding the "two-year EU accession" statements is cautious, and experts refrain from making their own predictions about the timelines because the process is complex and unpredictable. According to experts, much will depend primarily on the Ukrainian government. Nevertheless, it currently seems unlikely that Kyiv will be able to implement all the necessary reforms within two years, as only seven candidate recommendations were fulfilled in about a year. However, with political will, this process can be expedited and done effectively, notes the expert.
On the other hand, Brussels is not as optimistic about the EU accession timelines as Kyiv. In a recent interview with the German Der Spiegel, the President of the European Council, Charles Michel, stated that Ukraine could become an EU member in 2030 if "both sides do their homework." Presumably, by "homework," he meant internal reforms, which the EU plans to complete by 2030.
The reform initiative is led by Germany and France, which have commissioned an expert assessment of what changes the European Union needs. In this assessment, experts proposed changing the approach to accepting new members. Just before a major expansion planned in Brussels, the EU plans to grow to 36 states by 2030 (currently, there are 27 members).
However, in their assessment, experts pointed out that such a rapid and large-scale expansion would make even development for all EU members impossible. Therefore, they proposed different levels of integration. Some would be at the core of the EU with the Schengen and a single currency, while others would be associate members with access to the single European market, and some would enter the European Political Community and have political and economic cooperation with other member states.
Borrell rules out Ukraine's incomplete membership in the EU (Photo: Getty Images)
In Kyiv, they strongly oppose the possibility of such an approach for Ukraine. Prime Minister Shmyhal reacted strongly to such ideas, emphasizing that Ukraine would not accept second-class membership in the European Union. Foreign Minister Kuleba expressed a similar sentiment, stating that Ukraine is a first-class state, and nothing less than first-class membership suits it.
It's worth noting that, so far, no one in the European Union has officially proposed any alternatives to Ukraine's accession. During a press conference in Kyiv, Borrell expressed astonishment at journalists' questions about the possibility of incomplete membership. "I do not know where this idea comes from. Who has talked about partial membership, half membership, 25% membership? Membership is membership, full stop," he emphasized.
Currently, it is unknown whether the European Union will be reformed based on the French-German initiative, or whether Brussels will reconsider its approach to expansion at all.
While attending a summit of the European Political Community in Granada, where they planned to discuss future expansion among other things, Borrell stated that thanks to Ukraine, the process of admitting new members could proceed faster, and the previously mentioned 2030 timeline set by European politicians is just a reference point.
Stefanishyna also noted in the conversation with RBC-Ukraine that the year 2030 is a general term related to the current wave of expansion, and it is not necessary for the accession of all candidates to occur simultaneously.
"There is an understanding that it is not about the accession of all countries 'overnight.' Each candidate country is treated individually, taking into account the speed of its transformations. Candidate countries are currently at different stages of progress regarding reforms and readiness for accession. Therefore, decisions on some countries may be made before the defined term," she explained.
According to Solodky, 2030 appears to be an objective term for Ukraine's accession to the EU. Of course, he notes, this could happen earlier, as it will be challenging for the EU to explain a refusal to grant membership if Ukraine completes all the necessary reforms earlier.
However, in the matter of Ukraine's accession, the EU will be more vigilant and thorough than it was in the case of Poland or Hungary in the 1990s, adds Solodky. This is because the EU is now paying for its past hasty, so-called advanced decisions, as it must now reckon with certain "shortcomings" in some European countries in terms of democracy and the rule of law. "It will not be easy for Ukraine," the expert concludes.
Difficulties may also arise during the ratification of membership, as this process is often used by EU capitals to advance their own interests. Here again, Hungary could pose problems. However, for now, as practice shows, Hungary has not blocked Ukraine's path to the EU and, together with other countries, has opened the door to Kyiv's accession.
***
With a high probability, Ukraine will begin negotiations with the EU on accession in 2023. It is evident that this process will not be lightning-fast and will require painstaking work and significant efforts from the Ukrainian government and parliament. The timeline for Ukraine's accession to the bloc remains unclear, but Ukrainian progress in implementing European norms and legislation will play a significant role in this.