Documents outlining Donetsk and Luhansk regions autonomy found at MP Shufrych's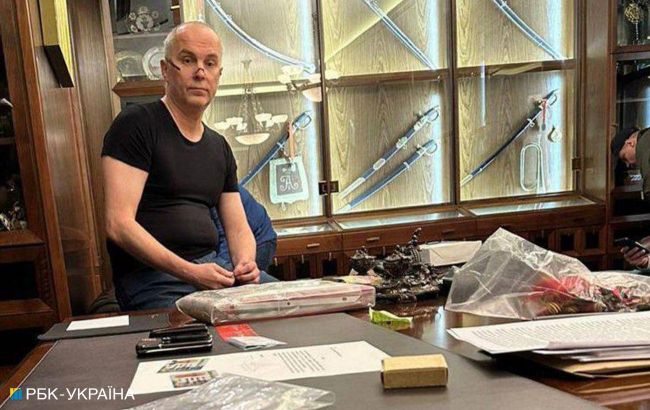 Photo: Nestor Shufrych (Vitalii Nosach/RBC-Ukraine)
During today's searches at MP Nestor Shufrych's residence, the Security Service of Ukraine found a document outlining a scheme for autonomy for the Donetsk and Luhansk regions, according to the agency's sources within the SSU.
Photo: Documents with a scheme of autonomy for Donetsk and Luhansk regions found at Shufrych's residence (RBC-Ukraine)
According to the sources, the document proposes renaming these regions as so-called territories, granting them wide autonomy, holding elections, and forming a separate government, and parliament.
Furthermore, the document, dated July 2014, bears the signatures of the traitor Viktor Medvedchuk and Nestor Shufrych himself.
"The cynicism of the situation lies in the fact that in July 2014, Shufrych publicly stated that both of his sons would go to fight in the Anti-Terrorist Operation (ATO) if called upon. Meanwhile, he was preparing documents that undermined the sovereignty and territorial integrity of Ukraine," noted the source.
Searches at Shufrych's residence
Today, searches are being conducted at the residence of Member of Parliament Nestor Shufrych. According to sources, he is suspected of state treason.
Although there have been no official statements from the Security Service of Ukraine regarding the reasons for the searches, sources in the law enforcement authorities have informed that Shufrych had close ties with former MP Volodymyr Sivkovych, who is linked to Russia's FSB. It is alleged that Shufrych was disseminating pro-Kremlin propaganda in Ukraine on his behalf.
During the searches at Shufrych's residence, a number of prohibited Soviet symbols have already been found. Among the discoveries in the house of the controversial politician, were prohibited St. George ribbons, medals, double-headed Russian eagles, and orders.
Furthermore, law enforcement officers found a collection of military uniforms in the MP's possession. Based on the awards' photos, the MP may even be considered a 'war hero' and a 'veteran of the Russian Armed Forces.'
It is worth noting that Shufrych is a Member of Parliament representing the banned Opposition Platform - For Life party and still heads the Verkhovna Rada Committee on Freedom of Speech. The pro-Russian politician has been a long-time ally of Ukraine's traitor Viktor Medvedchuk and former president-fugitive Viktor Yanukovych.