Searches at MP Shufrych's: Banned St George's ribbons and orders found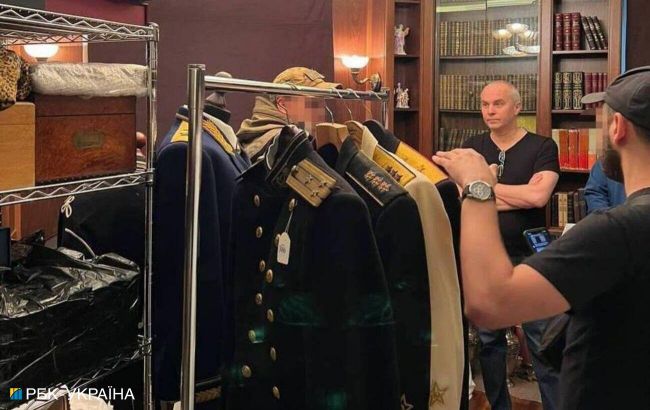 MP Shufrych's possession of banned St George's ribbons and orders found (Photo: RBC-Ukraine)
During the search at the residence of MP Nestor Shufrych, a whole range of banned Soviet symbolism was found. In his house, law enforcement officers discovered St. George ribbons, medals, double-headed Russian eagles, and orders, according to sources in the Security Service of Ukraine (SSU).
Photo: footage from searches in the house of MP Shufrych (RBC-Ukraine)
During the search, the security forces found items in Shufrych's possession characteristic of a true supporter of all things Soviet. Among the "finds" were prohibited St. George ribbons, medals, double-headed Russian eagles, and orders.
Furthermore, at Shufrych's home, law enforcement officers found a collection of kettles.
Moreover, based on the awards photos, the MP could be a "victor of victory" or even a "veteran of the Armed Forces of the Russian Federation."
Searches at Shufrych's residence: what is known?
RBC-Ukraine sources in the SSU reported that searches were conducted at the residence of MP Nestor Shufrych today.
Shufrych is suspected of state treason.
There was information in the media this morning about the alleged detention of the MP, but the source of RBC-Ukraine refuted this information.
There have been no official statements from the SSU regarding the reasons for the searches. However, as reported to the publication by security services, the controversial politician Shufrych had close ties with former MP Volodymyr Sivkovich, who is associated with the Russian FSB. It was on his behalf that Shufrych spread pro-Kremlin propaganda in Ukraine.
Additionally, Nestor Shufrych is a Member of Parliament representing the banned Opposition Platform - For Life party and continues to chair the Verkhovna Rada Committee on Freedom of Speech. Moreover, the controversial politician has a long history of being an ally of Ukraine's traitor Viktor Medvedchuk and fugitive Viktor Yanukovych.