Zelenskyy on Ukraine's accession to NATO: Matter of security for country and citizens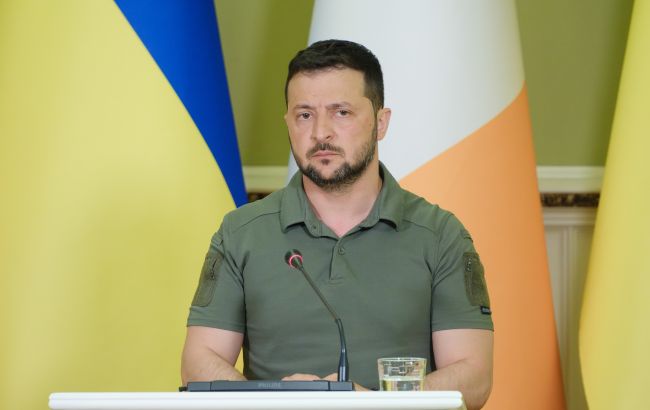 Ukrainian President Volodymyr Zelenskyy (Photo: RBC-Ukraine, Vitalii Nosach)
Ukraine has never desired any war, hence the accession to the North Atlantic Alliance is a matter of the country's security and its citizens, stated Ukrainian President Volodymyr Zelenskyy to La Nación.
"Countries are invariably captives of their geography."
Journalists cited a phrase attributed to former Mexican President Porfirio Díaz as an example for the president. It signifies that countries are consistently prisoners of their geography.
In this context, to comment on such an analogy, "Ukraine's entry into NATO could be equivalent to Russia placing its military bases on Mexican territory with all the ensuing consequences."
"It seems to me that we should look at this slightly differently. It's Russia speaking when they say that NATO is fighting Russia on Ukrainian territory. Because they can't comprehend how such a small military force can stand against such a large one like in Russia. To justify the efforts they are putting in and the fact that they cannot win," the president said.
NATO for Ukraine is about liberating our land
The president noted that some countries, like the Baltic countries, would be glad if the Ukrainian army were on their territory to protect them after the war.
However, he emphasized that Ukraine doesn't need US or partner countries' bases. Geographically, Ukraine is close to Russia and other countries, and there's also an example: where NATO is, there is no war.
"And we need to consider our stance in the context that the countries that joined NATO did so because they suspected that the Soviet Union might return to them," the president said.
He explained that NATO for Ukraine is not about attacking or advancing; it's about liberating our territory, first and foremost, for this purpose alone. NATO is a security alliance, but there is no war on its territory.
It's also about Russia's security
Zelenskyy explained that in this context, it's about Russia's security. Some think Ukraine could come onto Russian territory, but we never wanted any war.
"Our entire industry was taken away from the occupied territories. And that's already colonization. So the question of NATO, excuse me, is a question of our security and the protection of our people, and that's all," Zelenskyy added.
Ukraine's NATO membership and the Alliance Summit in Vilnius
Despite expectations, Ukraine did not receive a direct invitation to NATO from the allies at the Vilnius summit. As explained by NATO Secretary General Jens Stoltenberg, Ukraine will receive an invitation when "all allies agree, and conditions are met." However, the declaration does not outline the conditions that need to be met.
Before the summit, Ukrainian President Volodymyr Zelenskyy criticized the Alliance for its indecisiveness towards Ukraine. He stated that it's "unprecedented and absurd" when there are no timelines for the invitation and Ukraine's membership.
However, Zelenskyy later mentioned that he understands Ukraine cannot become a NATO member if there is a war with Russia on its territory. US President Joe Biden also sees no possibility for Ukraine to join NATO until the war ends.