Zelenskyy meets with Biden: Initial details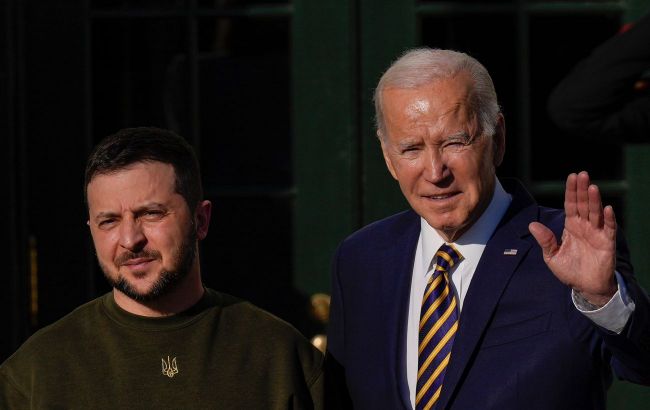 Ukraine's President Volodymyr Zelenskyy and U.S. President Joe Biden (Photo: Getty Images)
President Volodymyr Zelenskyy met with American leader Joe Biden on September 21 in Washington.
What is known about the first details of Zelenskyy's and Biden's meeting can be found in the article by RBC-Ukraine below.
During the preparation of this material, sources such as the USA Today live broadcast and the Twitter account of Bloomberg journalist Jennifer Jacobs were used.
Zelenskyy arrived at the White House for the meeting with the American leader. There, they will hold negotiations.
Before the White House building, Biden, along with his wife Jill, welcomed Volodymyr and Olena Zelenskyy. Afterward, they shook hands, took several joint photos, and headed to the presidential residence.
Initial statements
In the Oval Office with Biden, Zelenskyy stated that he and the First Lady of Ukraine had honored the victims of 9/11 at the Pentagon.
He thanked the USA for assistance in combating "Russian terror" and also Poland for their support.
#BREAKING Zelensky arrives at White House for Biden meeting pic.twitter.com/V5H3G2vWI1

— AFP News Agency (@AFP) September 21, 2023
It is expected that after the negotiations, during a joint press conference, Biden will announce a new package of military assistance for Ukraine, which will include additional ammunition for HIMARS systems, anti-tank weapons, artillery, ammunition, and more DPICM cluster munitions.
Expectations from Biden and Zelenskyy's negotiations
As previously reported, U.S. President Joe Biden would host his Ukrainian counterpart, Volodymyr Zelenskyy, at the White House. The sides were expected to discuss a wide range of issues, from security guarantees to military assistance and financial support for Ukraine.
It was also reported that Biden was set to announce a new package of military aid from the United States to Ukraine worth $325 million on the day of the meeting with Zelenskyy.
The package is expected to include a second tranche of cluster munitions for 155-millimeter howitzers, as well as new types of weapons. However, it was noted by Reuters that long-range ATACMS missiles would not be part of the list.
More details about the expectations from the meeting can be found in RBC-Ukraine material.
Zelenskyy's arrival in Washington
As part of his working trip to the United States, Ukrainian President Volodymyr Zelenskyy arrived in Washington today.
As previously announced, Zelenskyy planned to visit Capitol Hill to meet with U.S. lawmakers before holding a meeting with Biden. He also mentioned that one of the top issues on the agenda was missile defense for Ukraine.
In Washington, Zelenskyy is also scheduled to hold talks with leaders of the U.S. House and Senate, as well as with the military leadership. Additionally, the head of state will meet with American business representatives, journalists, and the Ukrainian community.
Zelenskyy's visit to the U.S.
President Zelenskyy began his visit to the United States with a visit to New York. He initially visited Ukrainian servicemen at a clinic where those wounded in action are undergoing treatment and rehabilitation.
Zelenskyy also made his first-ever personal appearance at the United Nations General Assembly since the start of the full-scale war. He participated in the Sustainable Development Goals Summit and addressed the United Nations Security Council. In addition, he had a series of bilateral meetings