Zelenskyy discusses alternative grain routes with President of EU Commission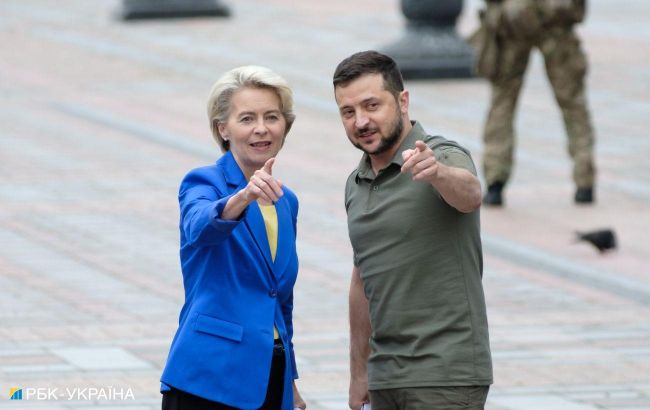 Ursula von der Leyen and Volodymyr Zelenskyy (Photo: Vitalii Nosach, RBC-Ukraine)
Ukrainian President Volodymyr Zelenskyy today, on October 2, had a phone conversation with the President of the European Commission Ursula von der Leyen, according to the Office of the President of Ukraine.
The head of the Ukrainian state expresses gratitude for the holding of an off-site meeting of the foreign ministers of EU member states in Kyiv.
"This is an important signal of unity between the EU and Ukraine," he emphasized.
The interlocutors coordinated their positions ahead of future international events.
Discussion of the export corridors for Ukrainian agricultural products
It is noted that Zelenskyy and Ursula von der Leyen discussed alternative export corridors for Ukrainian agricultural products.
The parties agreed to support a constructive dialogue regarding the removal of unilateral restrictions by EU member countries on the export of Ukrainian agricultural products and recognized the need to find measures to support Ukrainian farmers.
"The President commended the initiative of the European Commission to prepare a financial instrument to help our country – the Ukraine Facility worth EUR 50 billion for a four-year period and noted the necessity of its further endorsement by all EU member states," the statement said.
Grain dispute
On September 15, the European Commission lifted the ban on the import of Ukrainian agricultural products into five neighboring countries. However, Poland, Hungary, and Slovakia introduced unilateral bans at the state level.
In response, Ukraine filed complaints with the World Trade Organization against Poland, Slovakia, and Hungary.
Recently, Prime Minister Denys Shmyhal announced that Ukraine was implementing a new mechanism for grain exports to neighboring countries. He also reminded that Ukraine presented its plan to resolve the grain crisis, which was supported by the European Commission.
You can learn more details about the grain dispute in RBC-Ukraine material.