Ukrainian Army destroys Russian Solntsepek and two Msta-S in Tavria direction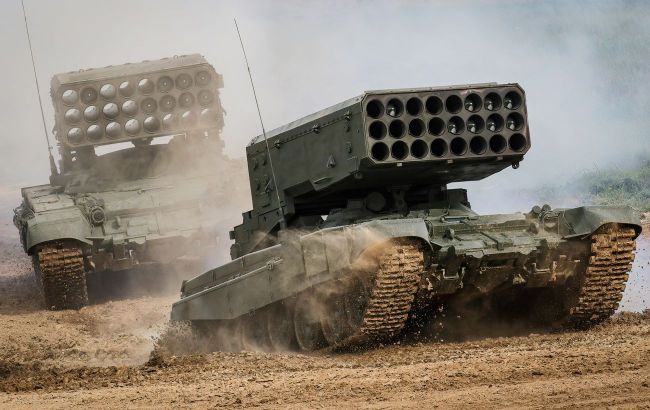 Photo: Russia's Solntsepek rocket launcher system (Getty Images)
Ukrainian fighters destroyed the Russian TOS-1A Solntsepek rocket salvo system and two 2S19 Msta-S self-propelled howitzers in the Tavria direction, according to the commander of the Tavria Operational Strategic Group, Oleksandr Tarnavskyi.
"The TOS-1A Sonltsepek heavy flamethrower salvo system and two units of 2S19 Msta-S self-propelled howitzers were destroyed," wrote Tarnavskyi.
In total, the enemy carried out 3 airstrikes, carried out 58 combat engagements, and fired 944 artillery shells in the Tavria direction.
Ukrainian soldiers are firmly holding the defense in the Avdiivka direction. The enemy's offensive actions in the areas of Stepove, Avdiivka, Tonenke, Krasnohorivka, Maryinka, and Staromayorske settlements in the Donetsk region and Chervone, Robotyne, and northwestern Verbove in the Zaporizhzhia region were unsuccessful.
At the same time, the offensive operation of the Armed Forces of Ukraine continues in the Melitopol direction.
Units of rocket forces and artillery from the Tavria air defense system carried out 1,322 fire missions during the day.
The total losses of the enemy amounted to 583 people.
Ukrainian fighters also destroyed 31 units of Russian military equipment, including:
1 tank;
4 armored vehicles;
7 artillery systems;
1 rocket salvo fire system ;
11 drones;
6 cars:
1 unit of special equipment.
Situation at the front
Ukrainian troops continue their assault operations south of Bakhmut in the Donetsk region and conduct an offensive operation in the Melitopol direction. During the past day, 78 combat clashes took place.
In addition, Ukrainian troops maintained their positions on the eastern (left) bank of the Kherson region and expanded their control over their positions north of Pidstepne.
Russia's losses in the war in Ukraine as of Tuesday, November 7, amounted to 890 occupiers, the total number of losses of the Russian army since the beginning of the invasion is 306,860 soldiers. In addition, the Armed Forces of Ukraine knocked out 5 tanks and destroyed 21 artillery systems.