Ukraine's MFA announces news about country's accession to EU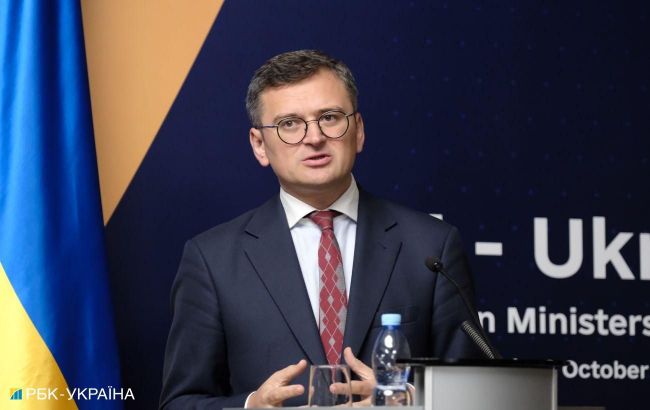 The Minister of Foreign Affairs of Ukraine, Dmytro Kuleba (Photo: Vitalii Nosach - RBC-Ukraine)
Ukraine's Foreign Minister, Dmytro Kuleba, states that Ukraine can expect good news regarding the country's accession to the European Union by the end of the week.
In response to a question about what Ukraine expects from the EU's report on the progress of its accession, Kuleba says he cannot disclose the details.
"Well, I won't disclose the results and details. But I believe that by the end of this week, you will see events and news that will have a positive effect. The Ukrainian government has been working to fulfill everything required from our side. The President has been monitoring this... I've said multiple times that if there are no force majeure circumstances, Ukraine will open negotiations on EU membership by the end of this year. We are confidently moving towards this goal now, but I won't reveal the details," Kuleba stated.
It's worth noting that the European Union is expected to present its report on November 8, which will pertain to Ukraine and other countries seeking EU membership, including Moldova, Georgia, and Western Balkan countries.
Ukraine's EU accession
Ukraine obtained candidate status for EU membership last year. Now the country needs to fulfill several conditions to become a full-fledged member of the bloc.
As of the end of June, Ukraine has met two out of seven conditions necessary to start negotiations, and at the end of September, Prime Minister Denys Shmyhal announced that the country was completing the implementation of all the recommendations of the European Commission at the governmental level.
It was anticipated within the Ukrainian government that the EU's report would be positive, and negotiations for EU accession could begin in 2023. President Volodymyr Zelenskyy also stated that Ukraine might start accession negotiations this year.
However, according to Politico, the EU is likely to announce the start of accession talks for Ukraine by December this year.
Furthermore, the Office of the President noted that negotiations for Ukraine's EU accession were expected to begin in the first half of 2024.
For more predictions regarding when Ukraine's EU accession negotiations might commence and potential hindrances, you can read RBC-Ukraine's article.