EU set to announce start of Ukraine's accession negotiations: Politico reveals timelines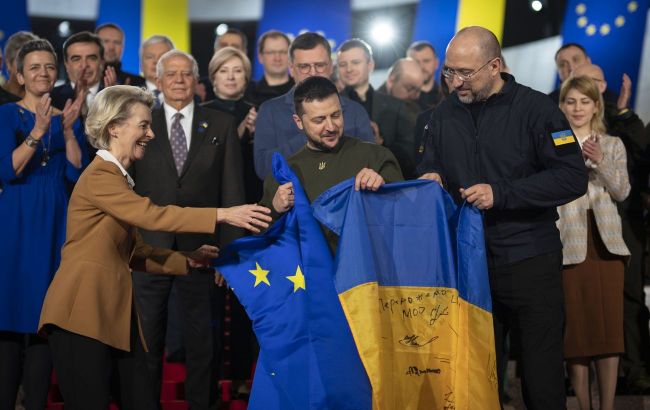 Chair of the European Commission Ursula von der Leyen, President of Ukraine Volodymyr Zelenskyy, and Prime Minister of Ukraine Denys Shmyhal (Photo: Getty Images)
The European Union is likely to announce the start of negotiations on Ukraine's membership by December of this year, according to Politico.
According to the material, an unnamed diplomat mentioned that the European Commission would make a statement after evaluating Ukraine's progress, after which it would be "very hard for member states not to say let's open negotiations."
"The political push around that will just be too big for individual member states to resist. The working assumption is indeed that by December, the European Council will decide to open negotiations.", the diplomat added.
Another source stated that the current goal was to agree on the start of negotiations at a political level in December, adding that negotiations could effectively begin by early 2024.
A third diplomat informed journalists that in December, leaders would "send a positive signal" regarding Ukraine's future membership. He also clarified that Ukraine's progress in reforms was encouraging, and the only problematic issue in the short term might be the question of national minorities.
In 2022, Ukraine obtained candidate status for EU accession. Subsequently, conditions were set for our country to become a member of the bloc.
Official representatives of Ukraine have repeatedly stated their intention to start accession negotiations with the EU by the end of 2023. To do this, our country needs to fulfill seven recommendations from the European Commission.
As mentioned on October 2, President of Ukraine Volodymyr Zelenskyy emphasized that opening negotiations required not only Ukraine's readiness but also the EU's readiness.