Triumph for Ukraine: Consequences of Russian S-400 system destruction in Crimea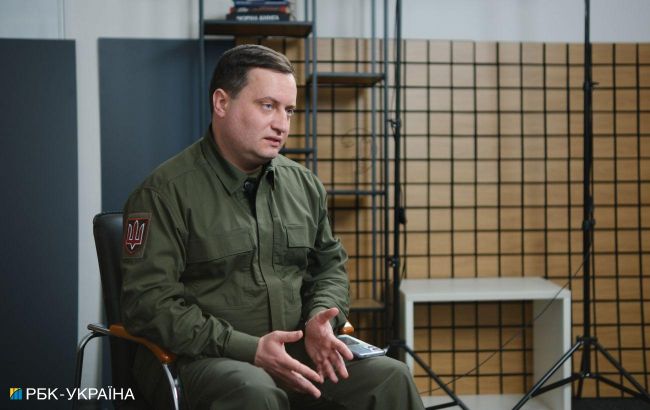 The representative of the Main Intelligence Directorate of the Ministry of Defense of Ukraine, Andrii Yusov (Photo: RBC-Ukraine, Vitalii Nosach)
The destruction of the Russian S-400 "Triumph" air defense missile system in the occupied Crimea will have significant implications for the developments on the peninsula, according to a representative of the Defense Intelligence of Ukraine (GUR), Andrii Yusov.
"This explosion eliminated such a 'showcase' of Russian air defense assets—something they wanted to sell at a high price abroad. And I believe there will now be far fewer takers for inefficient things that burn so well," he stated.
Yusov noted that intelligence has information about eliminating personnel due to the attack on the peninsula: "And the S-400 complex itself is not just a single unit of equipment. So everything around it has either been destroyed or damaged."
He was asked about how the destruction of the complex would affect the operation of Russian air defense in Crimea.
The GUR representative pointed out that there are few S-400 complexes in themselves, as they are one of the latest developments.
"Since it's one of the most modern Russian anti-aircraft and anti-missile defense systems, it will have systemic consequences for developing events in Crimea. Today, there truly was a 'triumph,' but not for the Russians. It's a triumph for Ukraine and Ukrainians who are moving closer to the liberation of Crimea," Yusov said.
Explosions in Crimea
Around seven explosions were heard this morning in Olenivka in western Crimea, and a plume of smoke was reported.
Local Telegram channels reported an incident involving a Russian military facility at Cape Tarkhankut. Supposedly, Russian radar stations were impacted there.
Additionally, Petro Andriushchenko, advisor to the mayor of Mariupol, noted that a coastal anti-ship missile complex, Bastion, was allegedly destroyed in Crimea.
A source in one of the intelligence agencies reported that the strike hit a Russian military unit.
Later, the GUR confirmed the destruction of Crimea's S-400 Triumph complex.