Explosions in Olenivka in occupied Crimea: intelligence reveals details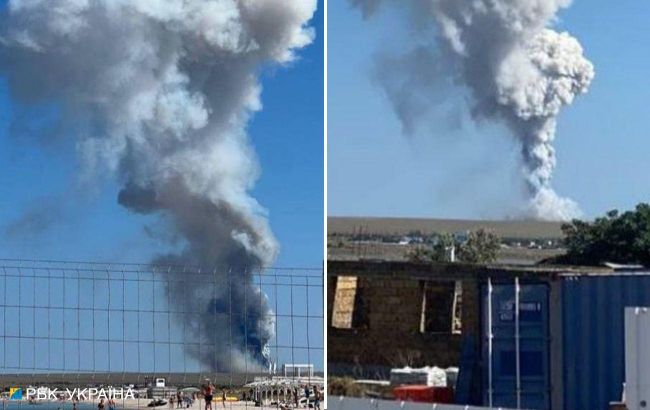 A military unit of the occupiers in Olenivka was damaged by a strike (RBC-Ukraine collage)
As a result of the explosions in Olenivka in the occupied Crimea, the occupiers' facilities were damaged. The attack hit an enemy military unit, as reported by an informed source within one of the intelligence agencies.
According to the source, the S-400 air defense system was destroyed, and Russian military personnel present at the site were either injured or killed.
"The military unit, the S-400 complex, and personnel were affected," the source revealed.
Explosions in Olenivka, Crimea
Earlier today, August 23, at approximately 10:10 AM, explosions occured in western Crimea, Olenivka, accompanied by a thick plume of smoke.
Local Telegram channels later reported an "attack" on a Russian military facility at Cape Tarkhankut near Olenivka. Allegedly, enemy radar stations were struck.
Crimean social media accounts suggested that a Russian 48YA6-K1 Podlet radar station in Crimea was targeted. These radar stations are designed to detect airborne targets at low and extremely low altitudes, especially in complex environments.
Notably, these radar stations provide targeting information for Russian anti-aircraft missile systems such as the S-300, S-400, and others.
Additionally, it should be mentioned that Mariupol's mayor's advisor, Petro Andriushchenko, reported that an anti-ship complex Bastion was supposedly hit in Crimea.
The Bastion complex is known for carrying the Onyx missile which Russia has been using to launch attacks against Ukraine.