Strategy, not tactics: Expert names two goals of Ukrainian strikes on Crimea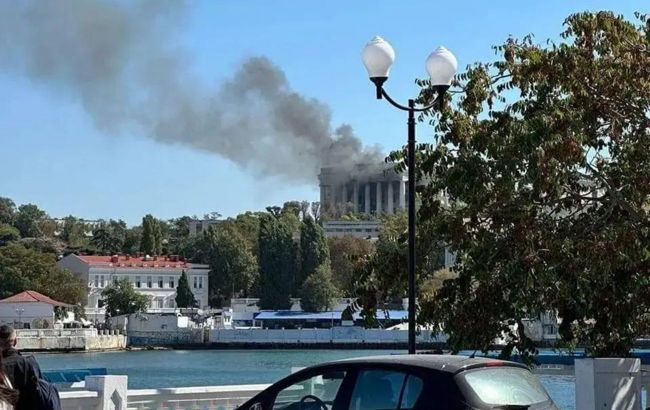 An expert has named the goals of the strikes by the Armed Forces of Ukraine on Crimea (Photo: facebook.com/OleksiiTselik)
The strikes on Russian military facilities in the occupied Crimea and Sevastopol are a strategy of the Armed Forces of Ukraine, which has two goals, according to a comment to RBC-Ukraine by Oleksandr Musiienko, Head of the Сenter of Military Law Researches.
"This is not tactics; it's a deliberate strategy of demilitarizing Crimea from Russian military presence. And this strategy aims at two goals that we are observing," he said.
According to Musiienko, the first goal is to destroy the capabilities of the Black Sea Fleet, both surface and submarine components of the Russian forces, in order to establish Ukrainian dominance and control in the northwestern part of the Black Sea.
"The second goal is to reduce the military objects in Crimea that the occupiers use to support their group in the south, which is currently opposing the Ukrainian counteroffensive," the expert explained.
Musiienko reminds that strikes on the occupied Crimea have been actively taking place for several weeks now.
"Why is this becoming possible? Because there have been successful strikes on air defense systems and radars in Crimea before. It's a combined task: first, the enemy is essentially blinded, and then drone and missile strikes are carried out on military objects," he concluded.
Strikes on Crimea and Sevastopol
In recent weeks, there has been increased activity in Crimea. Russians have been complaining about mass drone attacks on one day and missile strikes on another. However, today, explosions have been heard in Crimea throughout the day.
Ukrainian military struck the headquarters of the Russian Black Sea Fleet in Sevastopol. Simultaneously, there were explosions in other areas of Crimea, including Simferopol, as well as near the villages of Pervomaiske and Krasnohvardiiske. Explosions were also heard in Bakhchysarai, where smoke was observed as well.
According to a comment of the military expert Vladyslav Seleznov to RBC-Ukraine, the strikes on the headquarters of the Russian Black Sea Fleet in Sevastopol are dismantling yet another propaganda myth.
For more information about today's strike on Sevastopol, you can read RBC-Ukraine's article.
And for more details about the situation in other areas of Crimea, you can find information at the provided link.