'It has begun'. Not only Sevastopol: What's happening in Crimea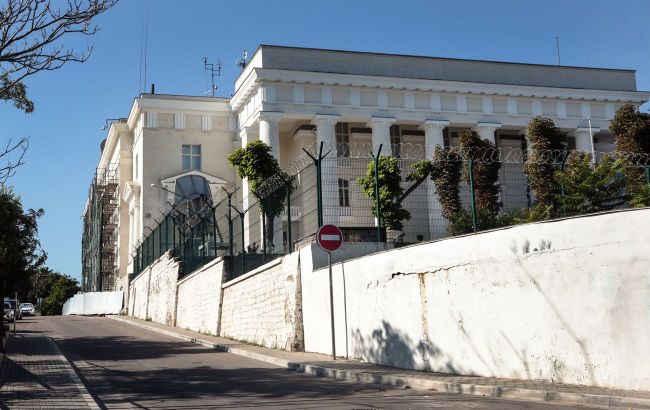 Photo: Russian Black Sea Fleet headquarters in Sevastopol is under attack again (Getty Images)
Powerful explosions rocked Crimea today, September 22. The explosions were heard not only in Sevastopol but also in other settlements of the occupied peninsula.
During the preparation of this report, sources such as the Telegram channels Crimean Wind, Crimea. Realities, Emergency. Crimea, the Russian news agency TASS, and the Telegram of the commander of the Ukrainian Air Force, Mykola Oleshchuk, were used.
Sevastopol
The loudest explosions today occurred in the occupied city of Sevastopol. Explosions were heard in the morning and after 01:30 PM, and smoke screens were used twice over Sevastopol Bay.
Later, it became known that the headquarters of the Russian Black Sea Fleet in Sevastopol was attacked. Posted images show that the roof of the building and the upper floors were destroyed.
The Russian Ministry of Defense claimed that their air defense system supposedly shot down 5 missiles but that the "attack" damaged the "historic building of the Black Sea Fleet headquarters." Russians also claim that only one soldier was killed.
Meanwhile, panic has erupted on social media, and residents are speculating that something significant has "begun."
Commander of the Ukrainian Air Force, Mykola Oleshchuk, has already reacted to the events in Sevastopol.
"All missiles were intercepted (ironically)! I hope that next time, the Russian air defense won't let us down again. Sevastopol is a city of the Ukrainian Navy," he wrote on Telegram.
Attacks on the truck repair base
Social media reports also mention explosions in the Aromatnynske village of the Bakhchysarai district. There is a truck repair base for Russian military vehicles located there.
There are also reports of another fire near the Tavryda highway. The grass caught fire due to the fall of debris from a Russian air defense drone or missile.
Bakhchysarai
A Telegram channel citing local residents reported attacks on military units in Bakhchysarai.
"Subscribers write about hitting two military units in Bakhchysarai," the message reads.
(Deepstatemap.live)
Simferopol and Balaklava
Air raid alerts were also heard in Balaklava, which is about 20 kilometers from Sevastopol. Several fires broke out near Simferopol, likely caused by falling debris.
For more information about the attack on Sevastopol, read the RBC-Ukraine report.