What's happening in Sevastopol: Videos from social media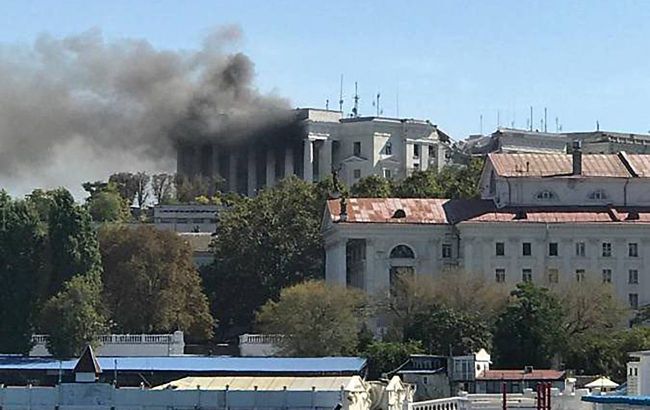 Russian Navy headquarters attacked in Sevastopol (Photo: Russian Telegram channels)
The headquarters of the Russian Black Sea Fleet in the temporarily occupied city of Sevastopol came under attack on September 22nd. Videos of the partially ruined building have been circulating on social media.
RBC-Ukraine has collected some of the most striking videos from social media sources in the report.
The following sources were used in the preparation of the material: Telegram channels "Crimean Wind," "Crimea. Realities", and "Emergency/Crimea".
Explosions twice in a Day
In the occupied city of Sevastopol today, residents heard two explosions. The sounds of the first explosions were reported in the morning, followed by another series of blasts after 13:30.
Against the backdrop of these explosions, observers noted the presence of smoke over Sevastopol Bay, suggesting that the occupants had deployed a smokescreen.
A strike on the fleet headquarters
Later, reports emerged on social media that the Russian Black Sea Fleet headquarters had been attacked, accompanied by rising plumes of smoke in central Sevastopol.
The aftermath of the strike on the headquarters was also shared online, revealing extensive damage to the building.

The city center sealed off
Following the reported attack on the headquarters, the occupying forces sealed off the city center of Sevastopol. Sirens were heard across the city, with reports on social media indicating that the evacuation of children and students had begun.
Meanwhile, the occupying authorities warn of the possibility of another attack, while propagandists claim that six Russian military personnel have been injured and one killed.