Security guarantees for Ukraine: Baltic States join G7 Declaration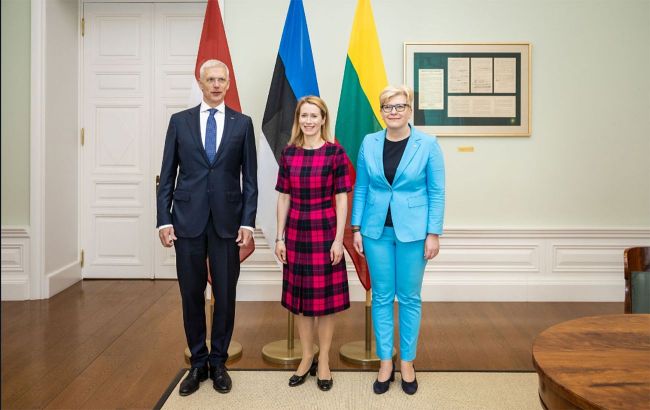 Estonia, Latvia, and Lithuania have formally joined the G7 declaration in support of security guarantees for Ukraine (Photo: postimees.ee)
In a significant development, Estonia, Latvia, and Lithuania have formally joined the G7 declaration in support of security guarantees for Ukraine, bolstering the country's position amidst the ongoing geopolitical tensions.
According to a joint statement released by the Prime Ministers of these Baltic nations, Estonia's Kaja Kallas, Latvia's Krišjānis Kariņš, and Lithuania's Ingrida Šimonytė, the collaboration aims to forge international frameworks to provide security commitments and mechanisms that will aid Ukraine in swiftly overcoming the current war. The shared objective is to ensure not only military security but also to foster economic stability, reconstruction efforts, and the implementation of vital reforms, thereby facilitating Ukraine's progress along its European and Euro-Atlantic trajectory.
Photo: The Baltic States' endorsement of the G7 declaration regarding security guarantees for Ukraine (twitter.com/kajakallas)
The leaders emphasized that Ukraine's resilience against Russian aggression serves to safeguard Euro-Atlantic security and the global order. They pledged unwavering support until victory is achieved, while also pledging their involvement in international endeavors to safeguard Ukraine's independence, democracy, and prosperity. Furthermore, they stressed the importance of holding those responsible for acts of aggression accountable.
Importantly, the Prime Ministers conveyed their conviction that NATO membership remains the ultimate path to provide Ukraine with security guarantees and a robust deterrent against potential future Russian aggression. The Baltic leaders vowed to continue steadfastly supporting Ukraine on its journey to becoming a member of the Alliance.
The Baltic leaders additionally committed to collaborating closely with Ukraine as it progresses towards European Union integration. They expressed hope for negotiations to begin in 2023, post a comprehensive evaluation by the European Commission, paving the way for Ukraine's potential accession.
The joint statement concluded by emphasizing that a strong, independent, and prosperous Ukraine fully integrated into the Euro-Atlantic community is paramount for European security.
Security Guarantees for Ukraine
At the NATO Summit in Vilnius held in July, the G7 countries collectively signed a declaration that underscores their enduring commitment to Ukraine's security and economic well-being. These security guarantees are essential to prevent any recurrence of Russian aggression once the current conflict subsides and prior to Ukraine's accession to NATO.
The list of nations pledging security guarantees has now surpassed 15, with recent additions including Bulgaria. The solidarity displayed through this declaration underscores the global effort to ensure Ukraine's stability and territorial integrity.