Security guarantees for Ukraine: official explains the agreement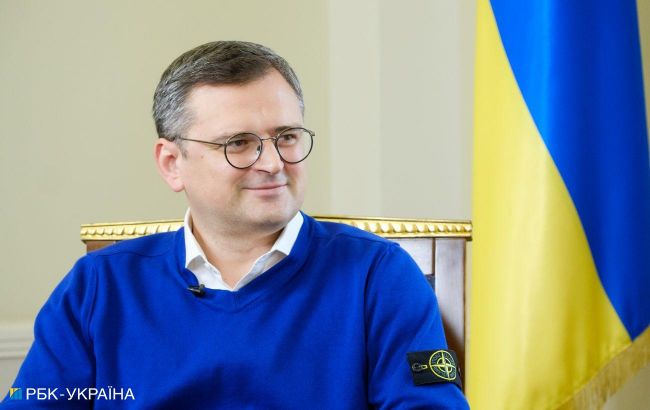 Ukrainian Minister of Foreign Affairs Dmytro Kuleba (Photo: Vitalii Nosach, RBC-Ukraine)
Ukraine's Minister of Foreign Affairs, Dmytro Kuleba, said in an interview that the agreement on security guarantees for Ukraine from the G7 countries and other partners will be a framework agreement and it will be signed with each individual state.
"This declaration, which was signed, elaborates on the phrase 'We will stand with you as long as necessary'. So, what exactly will we do: provide weapons, rebuild the country, confiscate Russian assets, repair equipment, and so on. This is a framework," said the head of the Ministry of Foreign Affairs.
Kuleba added that initially the countries of the G7 agreed to provide security guarantees for Ukraine, but other countries started joining the agreement as well. According to the minister, "the list will be substantial."
The joint G7 declaration lists everything that partner countries can do. Ukraine will work with each individual country on a bilateral agreement regarding specific matters.
"A specific country comes and says, 'I commit to providing you with five anti-aircraft missile systems and 100 tanks or 50 aircraft for the next 5 or 7 years (this is subject to negotiations). This is just an example. Then we sign an agreement for this bloc. Or, for example, another country comes and says, 'I don't have my own weapons, but I commit to transferring all seized Russian assets to you.' We sign an agreement for this. So, with each country, there will be a specific arrangement," explained Kuleba.
Security guarantees for Ukraine
During the NATO summit in Vilnius, the G7 countries adopted a joint declaration on security guarantees for Ukraine. They provide long-term support in the areas of security and economy for our country.
Furthermore, six countries have already agreed to join the guarantees. These include the Czech Republic, Denmark, the Netherlands, Norway, Spain, and Sweden.