Russian Ministry of Defense lied about 'successful ship inspection' in Black Sea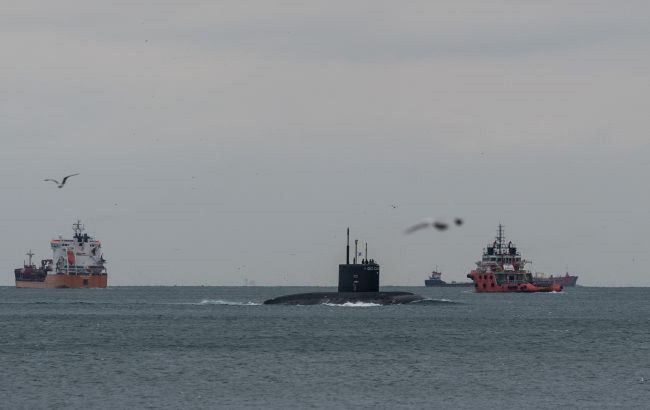 Russian Ministry of Defense exposed in a lie about the supposed successful inspection of the ship "Sukra Okan" in the Black Sea (photo: Russian Navy)
The statement of the Russian Ministry of Defense about the alleged forced stop and "successful inspection" in the Black Sea on August 13 of the dry cargo ship "Sukra Okan," which was sailing under the flag of Palau and heading to the Ukrainian port of Izmail, does not correspond to reality, according to InformNapalm.
The investigative team pointed to data from objective monitoring provided by sailors on one of the vessels that were observing the events from the side. They showed that the Russian Ministry of Defense provided false information in its official statement about the inspection of the "Sukra Okan" ship.
"As indicated by the sailors, the vessel 'Sukra Okan' did not comply with the demands of the Russians to stop, but simply temporarily changed course towards the coast, the territorial waters of Türkiye. There was no helicopter and no warning shots either," the article states.
Yes, the Russians only resorted to threats over the radio. However, the Türkish crew on board the "Sukra Okan" did not yield to their demands.
"So, the Russians lied about the 'successful inspection' of the vessel," the article states.
Russia halts foreign ship in the Black Sea
On August 13, the Russian Ministry of Defense announced that it had halted a foreign ship in the Black Sea. The ship purportedly was en route to the port of Izmail in the Odesa region.
According to Russia, one of its military vessels fired "warning shots" at the cargo ship in the Black Sea after it allegedly failed to respond to demands to stop.
Türkiye's reaction
Türkiye is aware of the incident involving a foreign ship halted by Russian military in the Black Sea.
A spokesperson for the Turkish Ministry of Defense stated that they are aware of the incident related to a ship en route to Romania and confirmed that official authorities are investigating it.
Ukraine's reaction
Advisor to the Head of the Office of the President of Ukraine, Mykhailo Podolyak, stated that Russia conducted a deliberate shelling to halt a civilian ship in the Black Sea.
He emphasized that this constitutes an act of piracy.
What preceded this?
Russia announced its withdrawal from the "grain deal" citing alleged non-compliance with its demands. Meanwhile, Russian occupiers began shelling Odesa, targeting the port and port infrastructure.
The last ship with Ukrainian products left the port of Odesa on July 16.
Following its withdrawal from the "grain deal," Russia threatened to sink ships heading to Ukrainian ports. In response, the Ukrainian Ministry of Defense issued a similar warning, stating that all vessels en route to Russian ports or ports in temporarily occupied territories would be treated as carrying military cargo.
On August 10, the Ukrainian Naval Forces announced that Ukraine had opened corridors in the Black Sea for commercial vessels.