Russia seeks to bring construction workers from North Korea to occupied Donbas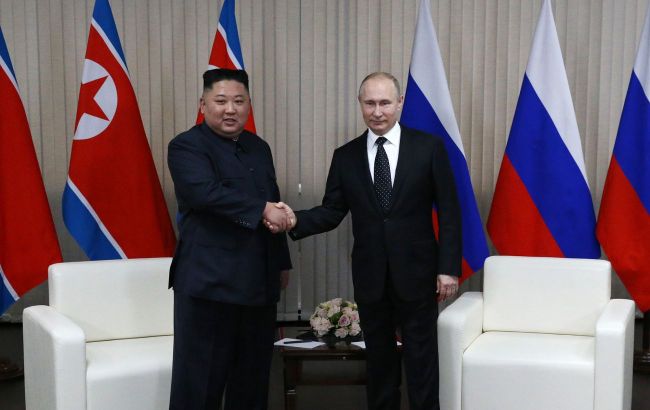 Photo: North Korean Leader Kim Jong Un and Russian President Vladimir Putin (Getty Images)
Russia is planning to import North Korean construction workers to the occupied territories of Donetsk and Luhansk in eastern Ukraine. This alleged cooperation was discussed during a meeting between Russian dictator Vladimir Putin and the leader of North Korea, Kim Jong Un, according to the National Resistance Center of Ukraine.
The Center for Countering Disinformation reported on this development, revealing that during the meeting between the two dictators, an agreement was reached to establish "diplomatic missions" of North Korea in the occupied cities of Donetsk and Luhansk. According to the National Resistance Center of Ukraine, the primary purpose of these missions will be to facilitate the importation of North Korean laborers to the occupied territories for construction work.
"Such actions of the Kremlin show that there are not enough workers from the territory of the Russian Federation or labor migrants from Central Asia, whom they could attract to the TOT both for the construction of engineering and fortification infrastructure for the Russian occupation forces (hereinafter referred to as ROF) and for construction in the interests of the occupation administrations," explained the National Resistance Center of Ukraine.
The Center also noted that during the spring and summer of this year, there were attempts by the occupiers to recruit migrant laborers into the Russian army. Therefore, the National Resistance Center of Ukraine does not rule out the possibility that North Korean labor contingents may also be used to support the occupation army.
Kim Jong Un's visit to Russia
This week, North Korean dictator Kim Jong Un arrived in Russia on his armored train and met with Putin on September 13th. As reported by the media, during their meeting, Kim Jong Un invited Putin to visit North Korea, and Putin allegedly agreed to the invitation.
As anticipated by Ukrainian and Western intelligence agencies, the meeting between the two dictators was expected to involve discussions about the supply of munitions from North Korea to Russia for use in the conflict with Ukraine.
For more details on the shipment of arms from North Korea to Russia, please read the article by RBC-Ukraine titled "Why Russia needs ammo from North Korea and will Kim Jong Un agree to transfer them: Expert insights".