Why Russia needs ammo from North Korea, and will Kim Jong Un agree to transfer them: Expert insights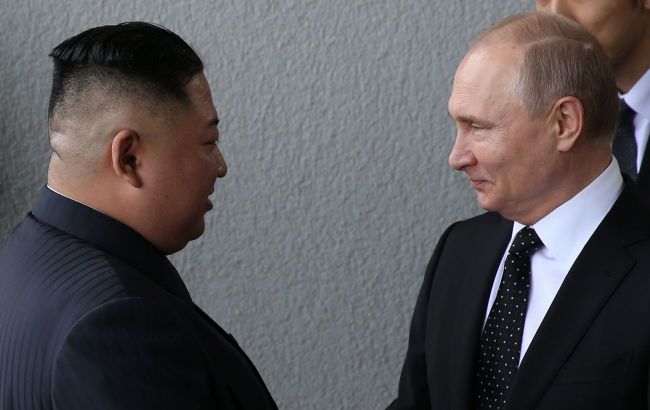 North Korean dictator Kim Jong Un and Russian dictator Vladimir Putin (Photo: Getty Images)
Russia needs North Korean ammunition as the aggressor country's supplies may deplete amid the war against Ukraine, according to political analyst Volodymyr Fesenko in a comment to RBС-Ukraine.
Political analyst Volodymyr Fesenko believes that the deficit can only be partially covered with North Korean munitions. It is currently challenging to determine whether they are needed by the Russians right now or as a reserve.
"But I think they primarily need ammunition. North Korea is not small, but it's not a very large country. Right now, the Russians are looking for Soviet calibers, as we did at the beginning of the war. Perhaps their arsenals are running out, or they need a reserve for the future, not just for current combat operations," clarified Fesenko.
On the other hand, military-political expert of the "Information Resistance" group, Oleksandr Kovalenko, emphasizes that he is not confident that North Korea will agree to supply ammunition to Russia, as Iran has already done.
"Because if Russia had something that could interest North Korea, they would have cooperated long ago, like with Iran. They have a contract with Iran for Su-35 fighter jets, Yak-130 combat trainers, so there is mutual interest. As far as I can see, North Korea does not have such an interest. More likely, they need something that Russia cannot currently provide," explained Kovalenko.
Possible arms supplies from North Korea to Russia
In recent weeks, American officials have been warning that negotiations between Russia and North Korea regarding arms supply are actively advancing.
In light of this information, it became known about the planned meeting between the dictators Vladimir Putin and Kim Jong Un, which will take place in the coming days.
American officials have begun warning North Korea about the consequences if it starts transferring its weapons to Russia for the war against Ukraine.
For more details on why Russia is seeking an alliance with North Korea, you can read in RBC-Ukraine article.