Prigozhin's plane crashed - Last moments of flight shown by tracking data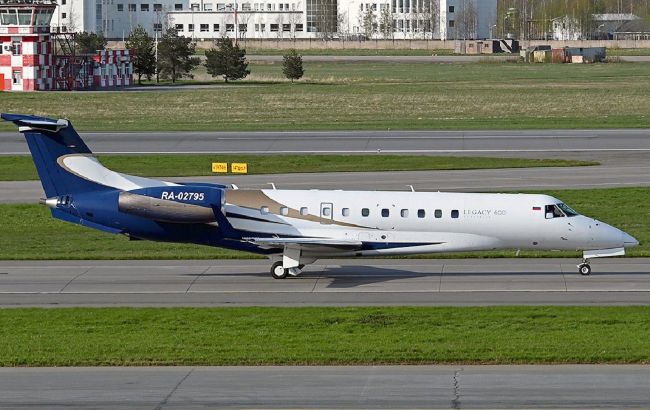 The plane is a Legacy 600 (Embraer-135) owned by Eugene Prigozhin (photo: Luba Ostrovskaya / Jetphotos)
The private business jet Embraer-135 of the founder of the PMC (Private Military Company) "Wagner," Yevgeny Prigozhin, probably with him on board, experienced a "sharp descent" before the crash in the Tver region (Russia) on August 23, according to the FlightRadar24 flight tracking website.
According to the analyzed flight tracking data, the aircraft stopped transmitting its location data at 18:11 local time. The reason for this could have been "obstacles/interference in this area." However, the aircraft continued to transmit other data for 9 minutes.
FlightRadar24 data shows that the flight leveled off at an altitude of 28,000 feet (approximately 8,535 meters) and made some minor altitude changes.
The last available data indicates that the aircraft experienced erratic altitude gains and losses, at one point climbing to an altitude of over 30,000 feet (approximately 9,144 meters).
Then, at 18:19 local time, the data showed that the descent rate of the jet reached 8,000 feet (about 2,438 meters) per minute before the transmission of altitude data ceased.
The flight path of the aircraft associated with Prigozhin before the crash in the Tver region, Russia (photo: flightradar24.com)
As mentioned in the FlightRadar24 blog, even though the aircraft was not transmitting location information, other data such as altitude, speed, vertical speed, and autopilot settings were still being broadcasted.
"These are the data that provide some insight into the final moments of the flight," as stated in the publication.
Diagrams with data on the vertical speed of Prigozhin's aircraft during the flight (photo: flightradar24.com)
What is known about the crash of Prigozhin's plane
In the Russian Tver region on August 23, a business jet, an Embraer Legacy 600, crashed with 10 people on board. Initial reports indicated that all of them had perished. Subsequently, there were reports that Yevgeny Prigozhin was on board.
A few hours later, Russia's aviation authority, Rosaviatsia, published the passenger list of the aircraft, including Yevgeny Prigozhin, the commander of the PMC "Wagner" Dmitry Utkin, Prigozhin's deputy Valery Chekalov, and several other individuals associated with the group.
It was also reported that the bodies of all ten people on board were found at the scene of the plane crash, and search operations were concluded.
Previously, RBC-Ukraine had gathered information on what was known about the plane crash involving the leader of the "Wagner" group in Russia.