Missile attack on Lviv and region on August 15: Consequences, photos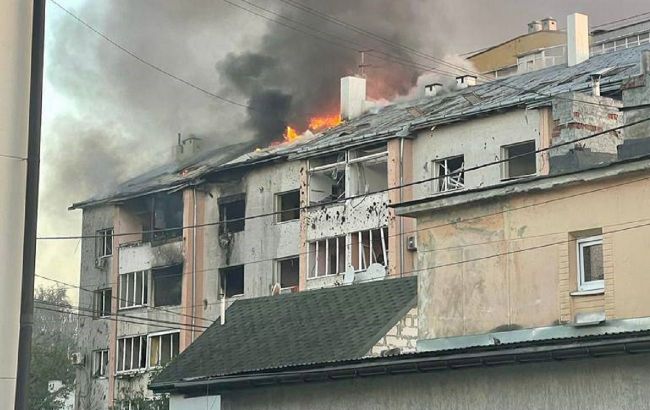 Aftermath of Lviv shelling (Photo: t.me/kozytskyy_maksym_official)
According to the Telegram channel of Lviv Regional Military Administration head Maxym Kozytskyy, in Lviv, the aftermath of Russian missiles strikes has left debris from targeted objects, damaging residential buildings and causing fires. Similar damage occurred in Sukhovil and Stavchany. The number of casualties has risen from two to four individuals.
Debris from downed missiles fell onto multi-story residential buildings on Paton and Kakhovska streets, resulting in fires and destruction.
"Evacuations were carried out, and there are casualties. They are receiving all necessary medical assistance. Information about fatalities has not been received yet," stated the official.
Additionally, minor fires were reported in other parts of the city, but they were swiftly extinguished.
In one of the city's hypermarkets, a missile fragment caused the collapse of the ceiling. Transportation vehicles were also damaged.
In Stavchany, 10 buildings sustained damage, with reports of individuals having suffered minor injuries.
Buildings in Sukhovil were also damaged, fortunately without casualties.
Mayor of Lviv Andriy Sadovyi also revealed that a Russian missile landed in the courtyard of a kindergarten.
He emphasized that, fortunately, there were no fatalities resulting from the enemy's massive strike.
"Fortunately, no fatalities. Unfortunately, a lot of damage. The missile landed in the kindergarten's courtyard. More than a hundred residences were damaged, over 500 windows shattered, and the kindergarten was destroyed. Four individuals are receiving medical assistance," he explained.
Consequences of the Russian missile shelling in Lviv and Stavchany on August 15 (photo: t.me/kozytskyy_maksym_official)
Nighttime missile strikes on Ukrainian cities on August 15
This night, an air alarm was sounded across Ukraine, covering almost the entire territory of the country. This was linked to a Russian missile attack. Specifically, in the Air Force's statements, launches of enemy cruise missiles from strategic bombers Tu-95MS were declared to have occurred from the Caspian Sea region.
Later, the military also announced missile launches by Russians on Ukraine from the Millerovo aviation area using Tu-22 M3 aircraft.
Explosions resonated in various cities, including Lviv, Lutsk, Khmelnytskyi, Dnipro, Zaporizhzhia, as well as in Sloviansk and Kramatorsk.
Read more about consequences of Russian strikes in Lviv, Lutsk, and Dnipro on August 15 here.